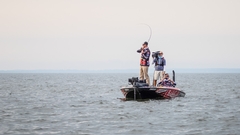 I recently spent a day fun fishing on Lake Michigan, which is the second largest Great Lake stretching roughly 300 miles long by 100 miles wide. It is a serious body of water and demands respect anytime fishing it or any large body of water. In a matter of minutes, it can turn from a relatively calm, peaceful lake to a hellish nightmare that is trying to swallow your boat whole. The stupidest thing I've ever done in a boat involved traveling many miles through 10 foot waves during an early season smallmouth tournament with water temperatures hovering around 40 degrees. We won the tournament, but I look back and think had a speared a wave we could have easily died in those conditions. I'd like to think I wouldn't make the same decision again if presented with the same choice. My point is simple. When fishing the Great Lakes or any big body of water you want to make sure you are as prepared as possible for all conditions.
On this trip, conditions were relatively stable and calm for the Great Lakes. I made my way about two miles off shore to an area I have done well fishing for smallmouth bass and settled down. As I fished, I noticed another fishing boat off in the distance and didn't think anything of it. After about an hour of fishing, the other boat had gotten relatively close and started waving at me for help. I went over to him and found that the fisherman's motor would not start and he wanted a tow back in. He said he had used his trolling motor and gotten about half way back to shore before his trolling motor batteries had died on him. The wind had since pushed him back to roughly where he was fishing and had I not been there he may have been blown all the way across the lake and in serious danger had the wind kicked up.
I gladly towed him the couple miles back to the boat ramp and couldn't help think to myself how unprepared this individual was. It wasn't even lunchtime yet and his batteries were shot. There is no way you'd ever catch me going on the Great Lakes without trolling motor batteries I fully trust. Motor issues happen and parts break, but there is no excuse for unreliable batteries. It's one thing to miss out on some good fishing action, but it's another thing to be put in a dangerous situation.
Safety is one of the main reasons I choose to run Battle Born Batteries. I know I can use my trolling motor on high power for literally the entire day and still have plenty of power. I do this often near my house when fishing the rough water of the Great Lakes or battling the strong current of the mighty Mississippi River. It's extremely stress relieving to know my Battle Born LiFePO4 batteries will keep me on fish all day, but just as importantly get me back to the boat ramp safely. After all, you can't put a price on safety.