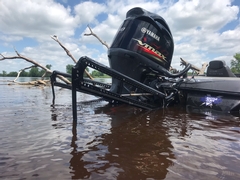 As a touring professional angler, I get asked questions about my gear almost every time I stop while towing my boat across the country. I get a lot of routine questions like, "What are those poles on the back of your boat?" And "Do you have any free jerky?" But I've found this year I'm getting a lot of questions from serious boaters about how I like my Battle Born Lithium Batteries. The answer to this isn't just a simple yes answer. That wouldn't do Battle Born the credit that it deserves for producing the best batteries I have ever used. There are just too many advantages to running these batteries over traditional lead acid batteries.

It starts with the installation. My 36 volt system is crammed into the back of my bass boat with very little room to remove and replace a 12 volt battery. It's so tight that I have to remove additional rear deck panels to access the furthest port and starboard battery. Removing the 60 -70 lb. lead acid batteries almost always leads to cuts, bruises or smashed fingers. However, I quickly realized when installing the 30 lb. Battle Born LiFe PO4 battery that these concerns would no longer exist since it's just so much easier to install a lightweight battery. Additionally, Battle Born builds the batteries in a traditional 12 volt battery size allowing you to install it in the factory installed battery trays. This also allows them to build in a battery management system which protects against fault conditions making them one of the safest lithium batteries on the market.

Once installed, I quickly realized the performance advantages to lithium batteries at my first tournament on Lake Toho in Florida. I spent the majority of my practice using my trolling motor on 100% power looking for bass spawning beds while cutting through lily pads and matted hydrilla fields. So basically, I was abusing my trolling motor. But I never had an issue. My batteries lasted all day and because lithium always produces 100% power my trolling motor had the strength to cut through the weeds. Whereas, with lead acid you gradually lose power throughout the day.

On day two of practice, my housemates and I woke up to a blown fuse box and nobody had gotten a good charge on their batteries. Out of the four of us, I was the only one that fished all day. My batteries performed flawlessly while my roommates were all off the water by 1:00 PM. I was able to last all day because Battle Born LiFe PO4 Batteries have twice the power and charge up to five times faster than traditional batteries. This scenario happened two more times during the remainder of the season. I can't stress enough how much of an advantage these batteries provide me over my competition that are running lead-acid.

But there's other advantages to! Like the decreased battery weight improves boat performance and gas consumption. They also hold a charge for up to year without the need to trickle charge. This is crucial for people that store their boats for long periods of time like those of us in the North Country. We have long winters and can't use our boats for up to six months because our lakes freeze solid. The batteries can also be fully discharged with no harm. This isn't the case with lead acid batteries, which are recommended to not discharge below 50%. This is one of the main reasons people blow through traditional batteries so quickly. But how is one supposed to know you're below 50%?!?!

Yes, these lithium batteries are more expensive. But they last 10 times longer! 10 times longer! That negates any reservations someone should have about spending a little more for these batteries. I can't speak highly enough about them. They have given me so much piece of mind on a topic that used to cause me so much stress. I highly recommend checking them out at www.battlebornbatteries.com and making the switch so that like me, you will not have to worry again about your boat batteries.