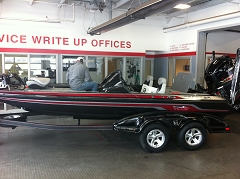 Only one week to go before the season starts for me. I picked up my boat yesterday and have it fully rigged and ready to drop in the water. Thanks to Justin Rowe and the Skeeter Boat Center staff for spending the extra time to make sure the boat's ready for a long season. The new 2015 Skeeter FX has a few new features that I really like including the air dried compartments, built in tool holders, more space under the driver console for my daddy long legs, built in bow lights and upgrades to the boat cover including a dual ratchet system and velcro access holes to the inside of the boat. I've also got to say that I am really impressed with the Dek-it mounts my hummingbirds are mounted on. These things are rock solid and I will not have to worry about the mounts slipping when i'm in rough water like I did with the gimbal mounts in my last boat.
I leave for St. Louis next Wednesday and will spend a couple of days there having my Bridgford wrap applied to the boat and truck. I've been told it will be finished sometime Friday, at which point I'll continue on my journey to Lake Okeechobee in Florida for the first FLW Southeastern Rayovac event. I've been there the past two years and really enjoy the fishery. Its unlike any other place I've ever fished and can be very overwelming to the first time visitor. But at this point, I feel like I've got a handle on what parts of the lake produce and how I'm going to catch them. Plus, it should be in the 70's and zero forecast for snow!
I'll be providing updates throughout my practice to let you know how it's going so stay tuned!