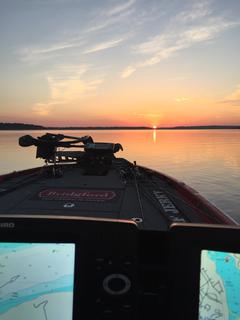 This was one of the most stressful weeks I have had as a fisherman. Heading into this event I was 21st in the point standings with a sixty point cushion over the 39th position. This meant I could guarantee a Forrest Wood Cup qualification with a top 60, but anything below that meant I needed help from other anglers. I've fished the Potomac River once before with no success, but I left that tournament having a better idea of how to fish tidal water and was looking forward at getting another shot at this fishery.

The night before the first practice day the area received several inches of rain, which completely muddied up lots of creeks throughout the river. Because of this, I spent a lot of time driving around looking for healthy weed in areas with clear water. It seemed like most of these areas were pockets or coves off the main channel that didn't have feeder creeks coming into them. The incoming and outgoing tides seemed to suck the mud right past some of these areas and allowed them to have several feet of visibility. Even though I found some good looking areas I really never did well when fishing. The bites were scattered and tough to come by.

On the last day of practice, I found two areas that had clear water and good weed growth that I received concentrated bites in. Both areas were getting less pressure since they weren't obvious looking areas and didn't visually look appealing. They were full of perch and other types of bait, which helped keep the bass around and I decided these two areas would be where I concentrated my time in the tournament. One thing I learned last time on the Potomac was that running around can be a big mistake if you don't fully understand the tide and know specific areas that are good for small windows of time on an incoming or outgoing tide. Locals definitely have an advantage, which is why I decided to camp in two areas and adjust within those spots as the tide changed. This way I could maximize my fishing time and guarantee I was fishing through the short feeding windows the tide creates.

On the first day of the event low tide was within the first couple hours of launch so the majority of the weeds were exposed. I started working my area with a weightless senko, but had little success. I switched to a popper and immediately started getting bit. I hadn't had a bite on it in practice, but it felt right and turned out to be a good decision. I had my limit by about 9:30 doing this and then went through a lull during slack tide. Once the incoming tide started up, I was able to catch several more keepers on the weightless worm and culled several times. With about an hour to go I checked my fish and realized I had three dead fish. Their cull buoys had gotten tangled and they suffocated. A penalty of 12 oz. that could not have come at a worse time. My total weight ended up being 11 lbs. 1 oz. after the penalty, which resulted in me dropping 27 places to 67th after the first day.

On day two, I started fishing with the topwater again but had little success. The outgoing tide was much slower and didn't fall as much as the first day hurting the topwater bite. It took me until about 9:30 to catch my first keeper and followed that up shortly afterward with another small keeper. Since the tide was still outgoing but nearing its low point I moved to one of my other areas that I laid off on the first day. When I got there it was game on and I caught about 10 keepers over the next several hours. I left this area with about an hour to go and had a limit of fish all in the 2 1/2 lb. range. I finished out the day by the launch ramp and caught a few more keepers, but nothing that helped. I ended up checking in about 15 minutes early as I felt confident I had enough weight for a check and had qualified for the Forrest Wood Cup. there was to much money on the line to push it to the last minute. I ended up weighing 12 lbs. 7 oz. for the day and finished in 46th overall. This was good enough for a check and better yet a Cup qualification with my 21st place finish in the Angler of the Year standings.

It was a stressful week, but turned out well. My goal was to make the top 20 cut to have a chance at making the top 15 in points to get an invite into the Toyota Texas Bass Classic. I didn't do that,but its critical to continue cashing checks and by having another decent finish I am getting a chance at the biggest prize in bass fishing, $500,000 at the Forrest Wood Cup in August!!!

On an interesting side note, I was randomly selected to take the lie detector test after Day 2. FLW is the only professional circuit that does this at every tournament and it helps keep the sport honest. It was the first time I had ever taken one and it was an interesting experience to say the least. It was actually kinda nerve wracking when you are getting strapped into the machine, even thou I wasn't worried since I do everything by the book and don't ever get information from anyone.

Time to start prepping for the Forrest Wood Cup on Lake Ouachita!