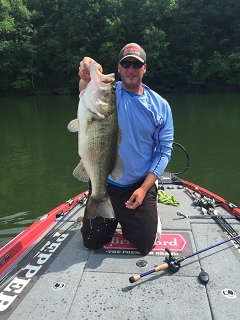 Sometimes the best thing in fishing is to go against the grain and figure out areas or techniques that nobody else is doing...other times that is a recipe for failure. In my case, at last weeks FLW Tour on Lake Chickamauga, I chose to avoid the crowded community spots and concentrate in areas with little pressure. It's no fun to play bumper boats and have to worry about crossing lines when you're casting. So, over the course of my three practice days I primarily practiced on offshore ledges that were not obvious and occasionally mixed in some shallow spots.

I never was able to find any big schools of fish offshore, but did manage to find 6 or 7 areas that I thought I could catch a couple of fish from during the tournament and the average size of those fish were bigger than the shallow fish. I only caught one good fish shallow, but that was a giant weighing 10.64lbs. Unfortunately, I wasn't able to replicate that bite into a better pattern.

On day one of the tournament, I ran a couple of deep spots with no success before hitting my third spot. At this spot I caught about 10 keepers on a big shaky head with a magnum trick worm and accumulated the majority of my weight for the day. I hit the rest of my spots with no success except for a three pounder I caught off of a lay down on a 1/2 oz. jig in a bluegill color. I ended the day with 14-7 lbs.

On day two I was able to catch two 2 1/2 lbers. on a ledge near the takeoff area. I then ran downriver to the spot I caught most of my weight the first day and never caught a fish. My coangler did manage one bite on a 10XD that was 5-6 lbs that I would have loved to have caught. I decided to move shallow in that same area and had several good fish hit a topwater that I missed before I finally caught a couple two pounders. Once the sun broke out from the clouds I moved back offshore with little success. To salvage my limit I went shallow again and caught a couple more keepers from deep main lake docks and ended the day with 11-14 lbs and finished the tournament in 83rd.

I'm really disappointed with this finish since I wasn't able to lock up a Forrest Wood Cup berth quite yet. In hindsight, I wish I would have stuck to some of the community spots since those areas had the highest concentrations of bass. Guys really caught them well on shaky heads and drop shots and there's no reason to believe I couldn't have caught them as well. Tomorrow I leave for the final tour event on the Potomac River and my goal is to take a top 20 and have a shot at finishing the season in the top 15 overall in points. Stay tuned!