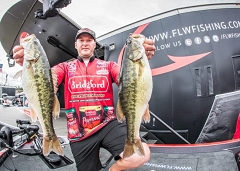 The second stop on the Walmart FLW Tour was at Lewis Smith Lake in Jasper, AL. This is one of the lakes I was really looking forward to fishing this year. It is SUPER deep and very clear with a healthy population of spotted bass and largemouth bass. I have been here one other time, which was two years ago when the FLW Tour visited Smith Lake and I finished 44th. It fishes similar to some of the deep clear waters of northern Wisconsin so I felt comfortable going into it.
The lake itself on a map doesn't look big, but it is so spread out with tons of small pockets and creek arms that it fishes huge. It also has a ton of structure everywhere so there is very little dead water that can be easily ruled out. I think this is one reason why some anglers feel overwhelmed going to Smith Lake. There's just a ton of fishable water and when combined with the clarity and depth it can become frustrating. For me, I view this as one of those lakes that allows an angler to fish their strengths and requires it for you to do well. This is not a lake you want to get caught up in doing something you are not comfortable with.
The water temperature during practice went from about 58 – 61 by the time the tournament started. Similar to the week prior on Guntersville, practice was beautiful with temps in the 70's and lots of sun, but come tournament time the temperatures dropped and brought some rain. Because of these conditions, I felt like some fish might be moving up to bed, but after checking a few pockets I determined that I didn't want to chase bedding fish. I never found one and thought my time would be better spent chasing spotted bass. In hindsight, I wish I would have spent more time looking since the guys caught them on beds pretty good, but I've also felt like in order to do well in a bed fishing tournament you really need to commit to it in practice and I didn't feel comfortable doing that.
I spent the first day of practice checking my best stuff from the first time I was at Smith Lake and had little success. There were a few areas that produced fish, but nothing that made me feel comfortable that I could make the cut. So the other two days of practice I spent the majority of my time up Ryan creek and found several areas that were holding numbers of spotted bass. You had to catch a bunch to come in contact with the 2+ pound fish, but I was getting enough bites that I felt comfortable with this strategy. It seemed like each day I was able to get four 3+ pound bites with a couple in the 4 pound class and I knew if I could get a couple big bites each day with the 2 ½ pounders I was getting to fill my limit out I would be OK. I was able to get consistent bites on jerkbaits and swimbaits fished around transition and staging areas. My main colors were shad specific, but if I was in areas with some color to the water I used more opaque shad colors and if I was in the gin clear water I used more translucent colors.
The first day of the tournament I ran up Ryan creek and hit several of the areas I felt would be my best producing spots with a good shot at a big fish. Unfortunately, I only caught a few small keepers and realized at this point it might be better to continue covering water and mixing in some new areas I hadn't fished in practice. This adjustment worked and I had a limit by about 9:30 and then continued to cull my way up to 13-8 lbs. I never got a big bite and all of my fish were in the 2 ¾ lb range.
On the second day I decided to make an adjustment and start by the dam. I was in the last flight and had an extra two hours to fish so I figured I would check some spots I liked that I thought could produce a big bite. I ended up catching two small keepers and decided to head up Ryan creek again. I proceeded to run a similar pattern to the first day and worked in new spots along the way. Similar to the first day, I consistently caught fish and had to weed through the little ones to get the better quality. By the end of the day I had caught roughly 25 keepers and my best five weighed 13-15 lbs. Again, I never had a bite over 3 pounds, but am happy with my performance. I ended up finishing in 28th with a total weight of 27-7 lbs.