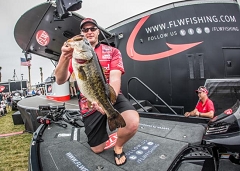 This tournament was truly a test for me both mentally and in my decision making. It was the first time I've been to the Toho chain of lakes and the first time I have fished a chain of lakes at the professional level. We have lots of these lakes in Wisconsin and one thing I have learned over the years is that when fishing tournaments on lake chains there is usually one lake that is producing the best and it's important to know which lake that is. Some lakes always produce bigger fish, some lakes have higher quantities of fish and some lakes are just unproductive. In my research prior to the tournament, I knew that Lake Kissimmee was out producing the other four lakes in the chain over the past couple of months, but that an angler making this long trek would lose close to three hours of fishing time. I also found that even though the majority of the field would go to Kissimmee, the winner was frequently from Lake Toho. After getting a better understanding for the lakes, I decided I would spend all three days of practice in Lake Toho where there would be less pressure and I could maximize my fishing time. Being that this was my first time to the Toho chain of lakes I felt it would be in my best interest to have an additional three hours per day to fish.

I arrived in Florida the Friday before the official practice started. It was windy, rainy and about 60 degrees, which was cold for Florida. Saturday it stayed cold and the area got about three inches of rain. This brought the lake levels up and dirtied the water. My plan had to fish spawning areas and mix in some sight fishing, but I quickly realized sight-fishing would not be a factor with the dirty water. I figured fishing would be tough with the cold front, but I also knew the full moon was the day before the tournament started and that the bass would be looking to spawn with the temperatures getting progressively warmer leading up to the tournament. I spent all day bouncing around Lake Toho fishing spawning areas including isolated pads, inside weed lines and hard bottom areas. I caught one bass! A 4 1/2 lb. pre-spawn female of an isolated pad clump. Because the day was so unproductive I decided to abandon Toho and made the trip to Lake Kissimmee on the second day of practice.

On the second practice day we had fog for the majority of the morning, which made it difficult to move around much on Kissimmee. The lake is big and all of it is fishable making it a little overwhelming. I found one area where we had several bites from small fish and caught one 3 lb. class fish. Due to the lack of activity I decided to make a change and went to a little lake called Tiger lake thinking I might find cleaner water. I was able to catch some small fish and figured I could catch a limit there but it was mostly a waste of time and not worth the additional travel time.

Since my first two days were unproductive, I decided I would concentrate on Toho again. I continued keying on spawning areas and found four spots where I had multiple bites. None produced anything over three pounds, but I figured I could catch a limit rotating through them and was confident more fish would move in preparing to spawn around the full moon.

The first day of the tournament I started in an area where I caught the 4 1/2 lb. fish in practice. After about two hours I had one 2 lb. fish and decided to move. My next area was much better. I was able to put my Power-Poles down and fan cast the spawning flat catching lots of male bass. I caught about fifteen keepers on swim jigs with my best five being 12 lbs. 11 oz. Every fish we caught there were males accept a 7 lber my co-angler caught. This gave me some confidence more big ones (females) might be moving in throughout the tournament. I decided to leave around noon since I wanted to check my other spots and manage my fish. I fished three other spots, but had little success and wasn't able to upgrade. I ended the day with 12-7 after a four ounce dead fish penalty.

The second day of the tournament I started in the spot I caught most of my fish. I immediately lost a 2 1/2 lber and over the next two hours caught a 4, 3, and 1 1/2 lb. fish. My co-angler also had two 5 lb. females. But around 9 AM a cold front blew through dropping air temperatures twenty degrees. At this point, I never got another bite on the swim jig. I ran through my other spots with no luck and decided to spend the last 1 1/2 hours in my best spot. I started with the swim jig and had no luck for 45 minutes. At that point I switched to dunking a 1 1/2oz weight in the thickest cover I could find on the edges of the flat, which never produced a bite for me during practice. This change saved me. I caught a 3 lb. female thirty minutes prior to check in and with twelve minutes prior to check in I caught a mule weighing 7-9 filling out my limit. I made one more pitch and then ran to check in with three minutes to spare. I ended the day with 18 lbs. 5 oz. and a two day total of 30 lbs. 11 oz. squeaking into 20th place and making the day three cut.

On day three we awoke to low 50 degree temperatures and strong north winds. I figured this would either have them in the thick stuff and I would do well or they would be gone altogether from my primary spot. Unfortunately, it was the later. I arrived to my spot and found water temps dropped from upper 70's to 65 degrees. I began throwing a swim jig hoping there might be some active morning fish on the flat, but had no luck. I then pitched through my area and caught a two pounder but that was all. Around noon I made a switch to an offshore shell spot and caught two more small keepers, but couldn't fill out my limit. I ended up with three keepers for about 5 1/2 lbs. and finished in 20th. I wish I had spent more time fishing shell beds and currented areas during practice as that bite was consistent and held up in the cold front conditions. Overall, it's a good start to the year and I made good decisions throughout the tournament following a terrible practice!