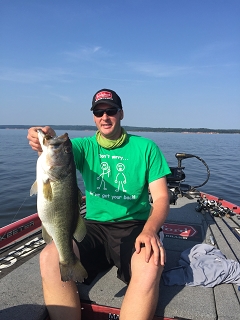 I apologize for being a little late on my Lake Eufaula tournament recap, but I Just returned home from the Lake Seminole FLW Rayovac tournament and I'm just now getting caught up. I must say I was a little concerned heading down to Lake Eufaula that this tournament could easily have been a bump in the road for me. I have been there once before, but due to some motor troubles I never left the creek arm we launched out of and had never seen any other parts of the lake. So, it really was like fishing a place I had never been before.
I decided to spend the first day of my practice on the lower end of the lake since I knew it had produced decent bags in the past. I began fishing shallow with a buzzbait and caught five small largemouth in the first couple of hours. The water temperature was in the high 80's and I figured that once the sun got up that the shallow bite might turn off. So around 9:30 AM I headed out to some offshore stuff and started graphing around. I quickly found a brush pile and made a few casts to it, which resulted in a six or seven pound largemouth. At that point, I figured this could be a decent pattern and began looking for more brush piles. By the end of the first day, I had found 35 brush piles and gotten bit in the majority of the ones I fished. I wasn't sure of the size, as I was shaking off all of the bites, but I did manage to see a couple other good fish and felt really comfortable with the pattern. I spent the next two days expanding on the southern portion of the lake and by the end of practice I had roughly 75-100 brush piles marked in water from six feet to twenty-five feet deep. Again, I routinely got bit in the piles I chose to fish and felt very comfortable heading into the tournament with my pattern. My biggest concern was how much pressure each brush pile would get and that I had put all my eggs into one basket by not looking for a secondary pattern.
On the first day of the tournament, I managed to catch about a dozen keepers fishing the brush piles, but never managed to catch any big fish. I did jump off a three pounder which would have culled me up a pound, but I never saw the quality I was hoping for. But several of the top leaders fished around me and we were sharing several of the same brush piles so I knew the quality was there and I just needed to get them to bite. I also left several of the isolated brush piles alone since I thought they might help me more on day two after hitting the community piles. I ended the day in 37th place with 12 lbs. 1 oz.
On day two, I began fishing several of the same brush piles I fished on the first day and quickly boated a three pounder. The bite definitely seemed more difficult and it took me until around noon to secure a limit. Since the bite was getting tougher I spent the last two hours fishing shallow with a Jackall Binksy that my roommate Jeff Gustafson had recommended to me the day before. He ended up in 5th fishing it the whole tournament and it ended up producing two quality keeper fish for me and I culled up to 13 lbs. 7 oz. and finished 31st. I did lose one fish close to six pounds at the boat, which would have put me into the top 20 cut, but that's how it goes. The fish were not eating the baits great and they would not stop jumping, which is why a lot of guys lost big fish in this tournament.
Overall, it was another solid tournament for me. I really would have liked to have made the cut, but am satisfied with my performance. I've never specifically targeted brush piles for an entire tournament and it gives me additional confidence in my offshore game. My Hummingbird electronics were a huge part in my success in this tournament and it always amazes me how accurate they can be. I caught the majority of my fish on a ¾ oz. football head jig, but also caught a few on a swimbait over the top of the brush piles. I wish I had spent more time doing that as it sounds as if a lot of the top finishers were getting bigger bites on swimbaits. I also think a lot of guys were catching good fish out of brush piles in the creek arms, which were more overlooked than the main lake structure and in the future I'll spend more time looking in the not so obvious places. Lastly, I'm amazed at the quality of shallow fish that were caught in 90 degree water. I guess those southern fish are used to it.