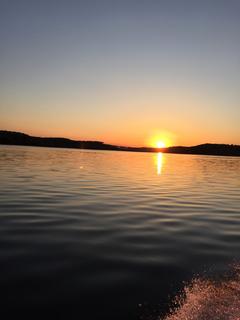 I'm glad I can finally say I overcame the Beaver Lake curse. I have fished the lake four previous years and never weighed-in two consecutive limits. But, in each of those years the other day was a solid top 35 limit suggesting I have at least an idea of how to catch fish on Beaver Lake. It is actually a lake I really enjoy going to. It's beautiful with gin clear water, waterfalls and a mostly undeveloped shoreline. You can catch largemouth, smallmouth, spotted bass and meanmouth without ever moving the boat. The biggest issue with Beaver is that the fish are relatively small and are continuously changing their location and feeding habits. For an angler, this means you must continually adjust to the conditions…something I have not done in the past. I usually try to force feed the fish what worked in practice, which just doesn't work on Beaver.
I knew prior to the tournament that there would most likely be a bunch of fish on beds. During the week prior, both Grand Lake and Table Rock Lake had fishing reports indicating that beds were everywhere and I assumed Beaver would be the same. I quickly confirmed this in practice and spent the majority of the next three days looking for quality fish on beds from Prairie Creek to the Dam. Over the course of those three days I compiled a list of about 50 fish in the 2lb class. Only a few of those fish were in the 3 pound range, which were females spawning with much smaller males and would probably not still be around the time the tournament started.
In between looking for beds, I checked a handful of prespawn areas that I have found in previous years and the majority of those spots produced fish for me using either a jerkbait or shaky head. Heading into the tournament my plan was to start on bedding fish and hopefully catch about 10 pounds and then go fishing after that.
Unfortunately, on Day 1, I got a poor boat number (91) and was the third boat into an area with a couple of quality fish on beds and lots of keeper size fish. I was able to secure a limit for about 7 ½ pounds in this area by about 8:00 AM and then ran further towards the dam looking to upgrade with some other bed fish. Unfortunately, every fish I stopped on was gone. Either they had been caught or finished protecting the bed and moved off. So around noon I began fishing prespawn spots and was able to upgrade with two nice largemouth over the course of the last couple hours. One 4 pounder and one 2 ½ pounder, both fat prespawn females. I finished the day in 37th place and a total weight of 11 lbs. 4 oz.
On Day 2, I decided to start in Prairie Creek with the hopes to catch one or two decent fish before running towards the dam. After almost two hours and no bites, I decided to make the move. I knew I had some small spotted bass on beds and decided I would try to catch a limit before fishing some of my prespawn spots. I was able to secure a limit for about 6 pounds again by noon and then made the switch to some offshore jerkbait spots. Around 1:00 PM the sun came out and with little success on the jerkbait I figured it wouldn't get any better. Unlike in years past, I decided to move to the bank and pick up a flipping stick which I hadn't done all week. In the next two hours I caught three solid 2+ pound largemouths and lost two more that looked like 2 pound fish. The three keepers I caught allowed me to cull out three one pound spots and I finished the day with a limit for 8 lbs. 15 oz. Overall, I weighed in 20 lbs. 3 oz. and finished 37th.
There is part of me that feels like I had a missed opportunity to make the cut since it took about 22 pounds. But, it's Beaver Lake, and anytime you can average 10 pounds a day you should be happy with that. With three solid finishes to the year, I'm currently in 14th place overall at the halfway mark of the season. The next event is on Lake Eufaula in Alabama. I'm looking forward to getting a little revenge there as well!