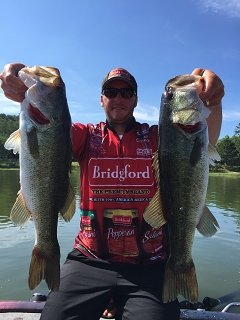 After a strong finish at the FLW Tour event on Lake Eufaula, I headed further south to Lake Seminole located on the Florida/Georgia border. I had never been to Seminole before and was hoping it would set up similar to Lake Eufaula and that I would be able to get on a brush pile and topwater bite. However, after the first hour on the water, I realized this was an entirely different fishery. More of a flooded swamp with standing timber, hydrilla mats, ledges and pad fields scattered everywhere across the lake. You could fish dirty water or super clean water separated by only 50 yards. It truly is an amazing fishery and can quickly overwhelm an inexperienced angler.
My first couple of days of practice did not go well. I sampled a lot of different types of structure with very little success. I did manage to find one area up the Chattahoochee River that held some quality fish, but not the numbers that lead me to believe I could milk it for two days. On my third day of practice, I decided to concentrate on hydrilla and found an area near Spring Creek that was holding quality fish and provided me consistent bites. I never saw a giant fish that Seminole is known to produce, but I could have had a 17 or 18 lb. bag and I knew if I could do that two days in a row I would have a legitimate shot at the Angler of the Year Award if the leaders faltered. I spent the last half day of practice building on my pattern and was able to expand on my primary area. Needless to say I was confident heading into the tournament that I was on a solid pattern and was looking forward to the tourney getting started.
On day one, I was in the first flight and headed to the area I had gotten the most bites. I spent the first two hours in that area with no action at all. I then started jumping around hitting other isolated hydrilla clumps and managed to catch one nice three pound fish. However, by noon that was still my only keeper. I had several nice bites but just never connected with the fish for some reason. Around 1 PM I caught another 3+ largemouth and a 12 incher that gave me a total of about seven pounds. Since I was first flight I had to leave around 2 PM and ended up short of my limit. I ended the day in 108th place with 6 lbs. 15 oz. A total bummer of a day!
I spent that night trying to figure out what went wrong and the only thing I could figure was that the lure color I was throwing didn't work because the water muddied up during the tournament. In practice, I caught my fish on a green pumpkin colored texas rigged senko in the clear water and never got bit when I tried darker colors. Heading into day two I figured I'd work in some darker colored senkos to see if that would help in the dirtier water. I think this was a good decision as I had three keepers in the boat within the first two hours. I continued to catch quality fish until about noon when the wind pushed clear water back into my area. Since I stopped getting bit, I picked up the green pumpkin colored senko and immediately caught a fish and culled two more times over the course of the next couple hours. In total, I had close to a dozen keepers and ended the day with 15 lbs. 2oz after a dead fish penalty. I ended up moving up to 54th out of 181 anglers and took a small check. I also ended the season in 12th place in the point standings and qualified for the FLW Rayovac championship held in October.
I was a little disappointed after looking at the results since I had a legitimate shot at the AOY slip through my hands. Had I finished in 15th or higher I would have won the title since the leaders all had bad tournaments. All I needed were two of the three plus pound fish I had been catching in practice and on day two to fill out my day one limit and I would have accomplished that goal.
Next time I go back to Seminole, I will definitely look into figuring out the deep timber bite. Several of the top finishers were concentrating on the timber around the ledges in the Spring Creek area and it would have been nice to have had a back-up pattern to fish on day 1, but there's only so much time in practice to break down a new lake. My next blog post will be in a couple of weeks after the FLW Tour event on Lake Chickamauga. Stay Tuned!