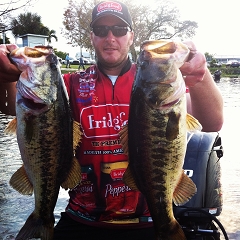 I just got back from the FLW Rayovac Southeast Division season opener on Lake Okeechobee. I finished 26th out of 250 boats weighing a total 28-05 lbs. As I have previously mentioned in my blog posts, one of the things I am going to do throughout the year is provide tournament recaps that detail my practice and tournament days. If you have any questions or need more specifics please ask and I will do my best to answer them.
I left on January 13 and headed to St. Louis to get my boat and truck wrapped by Vinyl Images in Fenton, MO. They did a great job and I would recommend them to anyone. This is the first time I have had any type of wrap on either my truck or boat and was amazed at the amount of passerbys that checked me out on the road and came up to me to talk about Bridgford products when I was stopped at gas stations. I'm not used to this type of attention and it will take some time to get accustomed to it.
I arrived in Clewiston, FL on Saturday, January 17 which gave me 3 1/2 days to practice and break in my new motor as it had not been in the water yet. I decided to concetrate my efforts in the northwest corner of the lake known as the Monkey Box, Harney Pond, and North Shore area. It's a good five mile by five mile area that contains all types of vegetation and is known as one the best areas on the lake. In my past tournament experience on Okeechobee, this part of the lake has been where the winner and the majority of the top finishers fished and routinely produces giant bags. The first stop I made was in a spawning pocket to see if there was any activity which would suggest that the fish were going to be in these shallow coves. I spent about an hour in this area with no action and did not see any fresh beds. In my past experience on Okeechobee these spawning areas would be teaming with life if they were being utilized and since it was dead I decided to move out into the main lake to check staging areas. I concentrated on matted vegetation and hydrilla weedlines located in front of the spawning areas and was able to put togethor a decent pattern in both the mats and the weedlines. I never found an area that was overly abundant with bass of any size, but I was able to get bit consistently every 20 minutes or so. For punching the mats I used 1 1/2 oz tungsten punch skirts with Zoom speed craws in black and blue colors rigged on a Powell 8 ft. Punch Rod. For the weedline fishing I used black and blue or bluegill imitation JC Hokie swim jigs on the St. Croix Legend Tournament 7'1" MH with Seaguar 15 lb Invisix fluorocarbon. I also deadsticked a black and blue 5" Yamamoto Senko in any bare spots in the weeds.
On Day 1 of the tournament I started on a couple of thick mats that had produced a 6 lber and 4 lber in practice. I had no luck on these and then went to an outside reed line on Conservation Shoal that had produced a few big bites in practice and again had little luck. I managed to catch a few small keepers doing this, but did not get the big bites I was looking for. I then headed to the North Shore area and found a concentration of small keepers and finished out my limit on the swim jig and Senko. I then decided to spend the majority of my time trying to get the big bite by punching mats, but again had little success. With 10 minutes left in the day I had the trolling motor on high trying to get to one last mat and caught a 5 lb class fish on the swim jig as I was fan casting. I ended up weighing 11-7 lbs for the day and finished in 98th place.
On Day 2, I again started punching my best mats but similar to day 1 had no success. I then decided to work the areas around the mats with the swim jig, thinking maybe the fish pulled out of the mats and were using the weedlines more. Afterall, this is how I caught my best fish on Day 1. This was the best decision I made during the tournament. By 10:30, I had a 15+ lb limit that included a 5+ lber, two 3 lbers and a couple of 12 inchers. The majority of the better fish came from one small stretch of weedline so I decided to go back to that area and punch the inside of the weedline which resulted in a 4 lber that culled me up to my final weight of 16-14 lbs. I spent the last few hours running around to areas I had caught decent fish in practice but had not success and in hindsight I wish I would have camped out in the area I caught my best fish. The only other angler I had in my area on Day two was Mark Daniels Jr. and he caught a real nice bag and stayed all day. He was out deeper from me fishing the outside weedline and I think his decision to stay helped him cull a few more times.
Overall it was a good tournament and a strong start to the year. My next event is the FLW Tour opener on Lake Toho the first week of March. Stay tuned to find out how that goes!