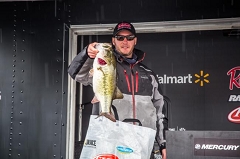 I've been to Lake Guntersville three times in the past and all of them have been during the month of March. So, one would think that I would have a good handle on how the lake fishes. But, in reality, this is a lake that has always given me troubles. It has the reputation for being one of the best fisheries in the country. The weights are always huge and you need well over twenty pounds a day to even think about making the cut. However, it can be a very intimidating body of water for anglers because it's not a numbers lake and with the hundreds of boats that fish it every day, the fish are extremely pressured making them difficult to catch. Often times the winner of most tournaments on Lake Guntersville are getting fewer than 10 bites a day. But they are fishing for the right quality and catching weights pushing and sometimes exceeding 30 lbs.
I arrived the Saturday before the tournament began to beautiful weather in the mid 70's. This weather was predicted to stick around until the tournament day when temperatures were expected to drop into the low 60's with lots of rain. In my past trips to Guntersville I had concentrated on the large grass flats, which can often times feel like searching for the needle in the haystack. So for this tournament I decided to try to avoid the miles of grass and concentrate my practice in areas that I felt the fish would be using to transition from their wintering areas to their spawning grounds. This would give me more precise areas to fish and even though I knew there would be some fish shallow with water temps in the mid 60's in areas, I figured the shallow fish may move deeper when the temperatures dropped pulling them back to me in the migration routes.
I spent my 3 ½ days of practice checking channel swings, bluff walls, contour line transitions and main river channel ledges. I caught fish consistently on this pattern using rattletraps, umbrella rigs and jerkbaits. I found that I could run this pattern from the south end of the lake all the way up the river and had roughly 50 spots by the time the tournament started covering 40 miles of Lake Guntersville. I decided to avoid the bridges and causeways, which I knew would produce some big fish since I didn't want to play the waiting game and deal with the crowd. But, as I predicted before the tournament the event was won off a bridge…
The first day of the tournament I started in the North Sauty area and had a limit by about 9:30. Unfortunately, they were all two pounders or smaller. I spent the remainder of the day running my milk run of spots and was never able to cull up much. After I got my limit I ran back to the south end of the lake thinking I could get one or two big bites. My co-angler caught one on an Umbrella rig weighing over 6 lbs. but I was unable to catch anything over 3 ½ lbs. I ended the day with 13-07 lbs. and was around 100th place.
On day two, I decided to start in the same area as the day before. I got fewer bites but the three I caught by 9:00 AM were all decent fish in the 3 – 4 ½ lb. range. At this time I decided to move to Mud creek to hit a place I had found with a bunch of keeper fish on it. I figured I could round out my limit quickly and that would be worth the run north. It paid off and I was able to finish my limit out with a couple of 2 ½ pound fish. I figured I had around 16 lbs. which secured a check and it was still only 10 AM allowing me lots of time to try to upgrade. I bounced around in the river section hitting areas I had found during practice and found they were holding some better quality fish. I didn't get many bites, but when I did they were quality. I caught a 7 ½, 6 and a 4 lber on an Excalibur XR50. I then began working my way south and caught one more 3 ½ lber on a river ledge that culled me up to my final weight of 25-1 lbs.
Overall, I finished in 29th place with 38-08 lbs. for the tournament and was satisfied with my performance. I'm still not sure why my pattern didn't hold up on day 1, but I have no doubt that I was around the right caliber of fish to compete as my day 2 weight shows. I also feel like I came away from Guntersville with a much better understanding of how the fish position themselves and am looking forward to going back there in the future.