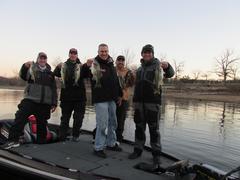 I just got back from the Bridgford Fishing Team meeting in Joplin, MO. We spent four days discussing our 2015 marketing plans that entail a lot of store visits at Walmart, Publix, and other retailers of Bridgford Products. In addition, we will be offering tons of fishing tips and videos on our social media pages and the Bridgford Blog, which should be rolled out in the coming weeks. It was a great opportunity for me to spend some time around Randy Blaukat, Luke Clausen, Chad Randles and Al Bridgford. All of them have a ton of experience in the fishing industry and business world with great ideas that will grow the Bridgford presence over the upcoming years.
We did manage to get out on the water for a little bit on Stockton Lake and Table Rock Lake. Two awesome Ozark fisheries that offer largemouth, smallmouth and spotted bass. We used two boats and each caught around 20 fish each day. We didn't catch any real big ones with most in the 2-3 pound range, but did catch all three species. We even managed to catch several walleye on both lakes, which I guess isn't all that common. For me, I was just happy to be on open water.
I'm starting to get closer to being ready for next season. The only big thing I'm still waiting on is the delivery of my new Skeeter. Once that's in, I can begin prepping the boat and will be ready to go. In the meantime, keep your eyes open for a few new Bridgford products including a fantastic chicken strip that comes in Sweet Baby Rays BBQ sauce. You should see those coming out over the next few weeks.