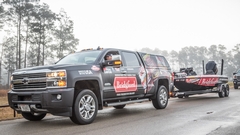 I've stated lots of times in the past that time on the water is absolutely crucial when asked by young anglers what's the most important thing they can work on to be a better angler. There is no other way to get better at fishing than to fish more. You can read every book, study every map, and review all the best websites, but there's only one way to apply that knowledge and that's by fishing.

The Sam Rayburn FLW Tour event was a great lesson for me. The lake rose about 10 feet increasing the lake size by about 50,000 acres of flooded forests. These were conditions I have never seen before in my past fishing history. Therefore, I tried to rely on what the book says we should do and that's go to the bank. Even though my gut was telling me that rising, cold flooded water would not necessarily move wintering fish into the trees and that it would just spread out the shallow fish more. I should have listened to my gut...

I spent three days of practice bumping around from deep offshore to submerged grass to flooded trees and got few bites. But the majority of those bites came shallow on a Dirty Jigs Spinnerbait or flipping a Berkley Chigger Craw. When I got bit shallow the size was good as well. I never caught a fish over 2 lbs deep so I decided to gamble and fish shallow since I had a few areas where I had multiple big bites.

On the first day of the tourney, I started in a creek that produced bites all throughout it. I quickly lost a 4 lb class fish before catching a small keeper spotted bass. I then spent the next four hours beating the bank without catching anymore keepers. I did catch a couple of shorts and missed a few bites. I had one offshore spot in this creek that another competitor was fishing so I left and ran to another location that I was hoping to save for day 2. But at this point I had no other options.

I quickly caught a 4.5 lber on the spinnerbait at the new location and felt like the move would pay off. I spent the next three hours working slowly through this stretch of bank and could not generate anymore bites. I ended the day with two fish for about 5 lbs.

One day two I went back to my day 1 starting spot and decided I was going to camp out in the creek and figure them out. I quickly got a bite pitching a Chigger Craw into an outside bush and caught a 2 lber. I then quickly caught a few more keepers and missed a couple bites over the next hour doing the same thing. So I concentrated on the deeper bushes, specifically ones with a red flower on them and put together a 10 lb limit by about noon. At this point, I was near the deep spot I wanted to fish on day 1 and since nobody was on it I pulled in and fished it. There was a precise cast I had to make to get bit, but I ended up catching about a dozen keepers. Unfortunately, they were all in the 2lb class and did not help much. So I ended up leaving since I thought my best bet to catch a big one was up shallow and I needed to make up for a bad first day. However, I was not able to upgrade and ended up with a small limit for about 11 lbs and finished 124th.

It was not the way I wanted to start the year, but one I learned a lot from. The fish did not push up into the woods much except for on the sunny third day of practice. That bite died due to a cold front that came in on our off day and followed into the tournament days. The fish that were in the grass were grouped up super tight. If you found them you could make the same cast and catch multiples but they were not everywhere. If I could do anything over again it would be to spend all three practice days in the grass. Guys that found 3 spots did really well in the tourney and caught 50 fish. Lots of guys that had a terrible practice even did well because they found one grass spot that had fish stacked up on it and they never left. This is definitely an event I'd like to have over again.