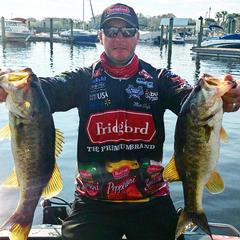 Lake Toho is a lake I like to fun fish, but one I don't like as a tournament body of water. I attribute most of this to the lock that separates Lake Toho from the rest of the Kissimmee Chain of lakes. The lock holds 12/13 boats per cycle and takes about 25 minutes to complete. Ideally, you either try to maximize your fishing time by staying on Lake Toho or get either an early or late boat flight that makes your decision to go right to the lock a lot easier if you want to head down to the lower lakes. Unfortunately, for me I have never gotten a good boat draw in the four times I have fished tournaments here. This was the case again in this year's tour event when I drew the middle flight both days.
My practice on Toho had not been good so I decided to make the run south to fish I had located on Lakes Hatchineha and Kissimmee. The first day I decided to go directly to the lock, which resulted in me waiting for about 45 minutes, which prevented me from getting to my starting spot until 8:30. I quickly started catching fish pitching a Berkley Powerbait General to isolated pad clumps and holes in the hay grass. In practice this area had resulted in my shaking off about 20 bites that all felt pretty good. I saw three or four fish that were easily over three lbs. so I knew the potential was good. However, I found the fish on the first day of practice and I knew something was wrong after catching a pile of barely legal buck bass. I'm not sure if the ones I was shaking off were females or just bigger males that had spawned and moved out, but the better fish were gone. I then started concentrating on the thicker clumps of grass in the area and managed to catch two 3 lb. class fish and had a giant swing and miss at my bait. The problem was there just wasn't much thick stuff to pitch my Berkley Chigger Craw into.
At about 1:00 I made a good decision and moved to another location I had seen some three pound class fish in practice and ended up catching two more three pounders before I had to leave for the lock, which I barely made it through and got back on time with 30 seconds to spare. I ended the day with 13 ½ lbs. and was around 60th place.
On day two, I decided I would fish on Toho for about two hours before going to the lock. I figured I'd be able to drive right up and get through, therefore maximizing my fishing time. I had a few 2 lb. class fish on beds that I thought might still be around since they were not in obvious spots, but either someone found them or they were done and moved on. I then headed to the lock and to my surprise still had to wait several lock cycles before getting through. By the time I got to Kissimmee it was about 9:45.
I again went back to my starting spot with the hopes I could catch that giant, which didn't happen. In fact, I didn't catch much of anything. I had three small keepers before I left at noon to go to my secondary area. Over the next two hours I did manage to catch four 2.5 – 3 lb. class fish on the General, but again had to leave by 2:00 to get back through the lock, which I made this time by only 10 minutes. I ended up weighing a limit for 13 lbs. and finished the tournament in 57th, good enough for a check.
I really like fishing the Toho Chain and it sets up well for my strengths, but I can't stand giving up almost four hours of fishing time to head south out of Toho, which is where most guys go. I know there was over 130 boats each day locking out of Toho and that creates a big cluster. I'm happy to have gotten paid and some decent points and look to do the same at lake Seminole.