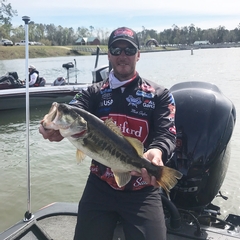 Seminole is a lake you both get excited for and dread seeing when they announce the following years schedule. It's got giant bass in it but catching limits can be tough. It's also completely full of timber making navigation very difficult and rough on equipment.

My plan heading into this event was to ignore the few spawning bass and key in on staging areas that would have both prespawn and postspawn bass funneling to it. Very windy conditions made it difficut to fish areas offshore and really hampered my practice, but I did manage to find one staging grass flat in the Chatahoochee River and a couple at the mouth of Spring Creek. Overall, my practice was brutal and I didn't get many bites.

I decided to start way up younder on the Chatahoochee on the grass flat I had caught some good keepers on in practice. I was last flight out and we had some bad fog, which really slowed me down. I didn't make my first cast until about 8:20 and it wasn't until roughly an hour later I had my first bite and caught a 3.5 lber followed by a 5 lber on my very next cast. Unfortunately, I never had another bite so around 11:00 I ran back to a couple small spawning pockets I had caught some keepers in, but only managed one bite which I subsequently lost. Around 1:30 I moved out to the mouth of Spring Creek and stumbled onto a 2 lber locked on a bed and quickly caught it. At about 3:30, I had to run back to weigh-in and was able to catch one more small keeper with 5 minutes to go before check-in. I finished the day with 4 fish that weighed 12 lbs 4 oz and was in 53rd place.

I decided to do almost the exact same game plan the second day. I ran to my furthest spot up the Chatahoochee River to start and similar to the first day at about 9 AM I got a solid 4 lb bite and put my first fish in the boat. Unfortunately, it was my only bite there so at 10:30 I ran back to Spring Creek and fished around the mouth. I was able to junk fish my way to my next three keepers all of which were under 2 lbs. With 30 min left to fish I found a pair on a bed with a 2 lb male and a giant female in the 8 lb class. They were actively mating when I found them but the female seemed interested in my bait regardless. With 7 minutes left to fish the male finally ate my bait and I caught him for my 5th fish. The female then locked down and got SUPER interested nosing down and blowing on my bait every other cast. I pushed my time limit to the max and couldn't get her to bite. I had to leave and made it back to check in with about 40 seconds to spare. It was only a matter of minutes before the big girl bit, but I couldn't afford to be penalized for being late. My limit for the day weighed 10 lbs 5 oz and moved me up to 49th place.

I get sick when I think of the big girl locked on the bed. That fish would have catapulted me into the cut, but after another brutal practice I'm happy to have cashed a check and survived this event with some decent championship points.

I caught almost all of my fish on a Z-man 1/2 oz jackhammer matched with a Berkley Grass Pig on a 5:4.1 Abu Garcia Winch/ MHX CB906 Rod/reel combo and 15 lb Berkley Trilene 100% Fluorocarbon. My other couple fish where on a wacky rigged Berkley General and a Dirty Jigs Matt Herren Flippin' Jig with a Berkley Powerbait Maxscent Meaty Chunk.

Next up is Grand Lake!