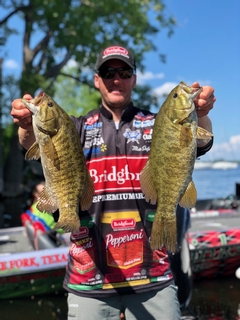 Heading into the Lake Champlain event I had one goal and that was to make the Top 30 cut. I felt confident that a top 30 finish would result in a Forrest Wood Cup berth, but knew I'd still need a little bit of help from my competitors. With the late spring and cool temperatures I had banked on the spawning smallmouth pattern and decided to put all of my practice into it. I knew that the spawn was rapidly finishing up, but I thought if I could find 15-20 solid fish during practice that I could have a good finish and that it was my best way to make the day 3 cup. I also knew at that point I'd be out of fish, but I was OK with that considering I really wanted to make the Cup.
I spent all 3 days looking and beat on my Battle Born Lithium Batteries hard. I spent 14 hour practice days covering water looking for beds and never had a problem with my batteries. I did have a problem with the smallmouth though. I had a hard time finding beds and the majority of the ones I did find had small skinny males. We had two windy days of practice which also limited the search and the one calm day we had I chose a bad region of the lake to search and found almost nothing. In fact, after three days of practice I had a total of eight beds found with fish that ranged from 3 lbs. to 3 ¼ lbs., but nothing bigger. This was not what I was hoping for or had expected.
On the first day of the tournament I decided to run to my five biggest fish which were all roughly 3 ¼ lbs. I caught my first three and on the way to my 4th I stopped on a spot I had caught a big largemouth on in practice. Unfortunately, the largemouth wasn't there, but I did find a bed with a 3 ½ lb. smallmouth on it. After catching that fish I decided to look a little instead of catching another fish I had found previously. I quickly found an area with several beds and all of the fish were in the 3 to 3 ½ lb. range. I kept one 3 ½ lber but released the other fish with the hopes of catching them on day 2. I spent the rest of the day searching for big fish, but never found anything that helped. I did catch and release a few other 3 lb. class fish that I knew I could use on day 2. I ended the day with 16 lbs. 15oz and was in 40th place.
On day 2, I ran back to the area that I had caught and released several fish. I caught the first one, but found competitors on the other two so I moved on to another I had found the day before. I caught that fish and then ran north to three beds I had found in practice. After some coercing I caught all of those fish, which consisted of two 3 ¼ lb. fish and one pushing 3 ½ lbs. I caught a bunch more fish on beds the rest of the day but didn't find one that helped until right before check in and it culled me up by only a few ounces. I ended up weighing 16 lbs. 10 oz. and finished in 36th place. This was good enough to earn me an invite into the Forrest Wood Cup on Lake Hamilton in August.
I caught all of my fish on either a drop shot with a 2.8 inch Berkley Powerbait Swimmer or a nail weighted Berkley Maxscent 4 inch General. The smallmouths absolutely love both of these baits! My rods were MHX SJ 871's and I matched them with Abu Garcia Revo MGXtremes with 10 lb. Berkley X9 to a 10 lb. 100% Fluorocarbon leader. This was a great 1-2 punch!