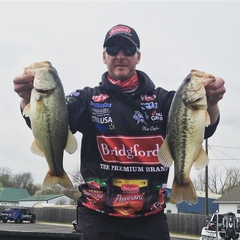 I was really looking forward to going to Grand Lake until there was an influx of cold muddy water that entered the system about a week before practice started. That really changed the fishing and made it predominantly a spinnerbait and Crankbait tournament. I've only been to Grand Lake once before in 2013 and made the cut so I felt confident heading into practice that I could get onto a solid pattern. Unfortunately, I quickly realized during the first day of practice that this was going to be a very tough event and that every fish would matter. The size was good but bites were few and far between.
I spent practice covering as much water as possible and fished well above the twin bridges area all the way to the dam. I probably spread myself out to much, but finding clean water was crucial so I wanted to see it all. After three days of practice I found myself concentrating from about Honey Creek to the dam area. I ended up only having a handful of bites across those three days and got them on a shallow running crankbaits and spinnerbaits. It seemed everyone was going to be using the same baits and that the potential to blank was a possibility for just about anyone.
I started the first day in a cove that had several nice channel swings and rock transitions. I caught a 5 pound class fish off of one of them so I figured I'd start there and go from there. I ended up catching a 3 lb. fish from the same exact spot as the 5 pounder and that settled me in. I spent the next couple hours bouncing around this cove and ended up landing four keepers by about 10:00 AM. I then made a short move and lost a good fish on a crankbait. It just pulled off and really hurt me. Fortunately, I quickly caught my limit fish in the next pocket and settled down. I caught two more shorts and then lost a decent keeper that would have upgraded me a half pound right before I had to check in. I ended the day with a limit that weighed 10 lbs. 9 oz. and had me in 49th place.
I started day two in the same pocket again but could only muster one fat spotted bass that weighed roughly 2 ¾ lbs. I then made a long run to the dam to hit some points that I had been bit on in practice but couldn't get anything other than sheepshead. So around 1:00 PM I ran back to the midlake area looking for areas that weren't getting as much pressure and caught a 3 lb. largemouth that I knew put me one bite away from at least securing a check. Luckily, I got that bite on the crankbait with about 15 minutes left to fish and ended the day with three keepers for 7 lbs. 15 oz. and a 55th place finish.
I'm happy to have left Grand Lake with a check and decent points, but in hindsight my lost fish and the fact I didn't fill my limit on day 2 kept me from making the cut. This was a tournament that could easily have gone wrong but it also could easily have been a very good one. I've got one week off before heading the Cherokee lake in Tennessee and chasing some brown fish around. I'm looking forward to it.