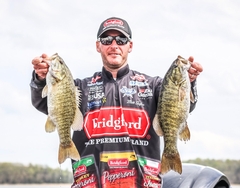 Lake Cherokee is probably the best smallmouth lake I have visited outside of the northern smallmouth states. It truly has a healthy population with both numbers and quality. In fact, there are a lot of lakes up north that can't even compete with Cherokee.
The week of the FLW Tour event probably couldn't have been more perfect. We got there as the water stabilized and started slowly rising from about a 15ft drawdown over the course of the previous three weeks. This rising water combined with a week of warm weather triggered all three species of bass to go into a full blown spawn by the time the tournament began. The most interesting thing is that all three species utilized very similar structure to spawn and it wasn't uncommon to catch any species at any time. For the most part though the smallmouth were more main lake and on islands and the largemouth were more in the creeks.
My practice was good and numbers of fish wasn't a problem. It was figuring out how to catch 3 lb. or better fish to get you into a 14+lb weight, which is what I figured you would need for a check. By the time the tournament started my conclusion was simply you just had to catch as many as possible and weed through the little ones for those bigger bites.
I spent the first day running some shallow pockets first thing in the morning fishing a Dirty Jigs Guppy head with a 3.8 Berkley Power Swimmer for spawners and shallow roaming fish in the 2-8ft range. I had a limit for about 12 ½ lbs. within the first hour and then continued to run this pattern until about 10 when it fizzled out. I had about 14 lbs. by this time and then switched over to using a Berkley Shaky Snake around isolated big rock looking for spawning fish and was able to upgrade my way to 15 lbs. 13 oz. and was sitting in 17th place after day 1.
I ran a very similar rotation on Day 2 and again had a limit by about 9 AM for 12 lbs. At 10 AM I made a long run up the river to a largemouth hole I had found in practice. Unfortunately, I was only able to catch a few keepers as the area appear to have been worked over by other competitors. At noon I ran back down lake and began looking for spawners in big rocks. I was able to upgrade my way to 14 lbs. 6 oz. and finished the day in 27th place qualifying for day 3.
On day 3 I ran a similar game plan looking for fish with the Power Swimmer first thing in the morning and secured a small limit for about 10 lbs. in the first hour, which included a smallmouth that weighed about 4 lbs. I then ran a bunch of my better water and upgraded several times with 2 lb. class fish and lost the only good smallmouth bite I had. Around 10:30 I switched to fishing in some creeks and quickly lost a 4 lb. largemouth on a shaky head. I then ran back down lake and fished some isolated rocks. I caught several more keepers but nothing that would help me. At 1 PM I lost another 4 lb. largemouth on a shaky head that just pulled off. I then ran some isolated cover in the last few minutes of the tournament and caught several fish that again wouldn't help me. And to top of a poor execution day, I lost another 3 ½ lb. smallie with about 5 minutes to go. Had I put the four big fish I lost in the boat with the 4 pounder I did catch I would have been pushing 20 lbs. and easily qualified for day 4. Instead I finished with 12 lbs. 7 oz. and a 29th place finish. I'm disappointed with my execution but I left Cherokee with a good check and points that moved me back inside the Forrest Wood Cup cutoff. Next up is Lake Chickamauga.