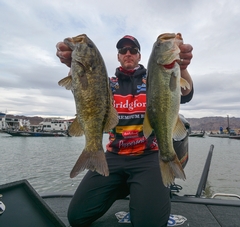 The two that got away...That's how I'll remember this event. After weighing in 12.75 lbs. on day 2, I headed out in 4th place out of 224 boats about 1 lb. behind the leader. Day 1 of the tournament was canceled due to high winds and turned the event into a two day shoot out.

I started the final day in the same area I started the day before. Within the first 20 minutes I hooked up with a 3.5 lb. largemouth and had it come unbuttoned half way back to the boat. On Lake Mead anything over 2.5 lbs. is considered a real good one so to lose a fish of this caliber was heart breaking. Shortly after that I caught my first keeper, a small 14 inch largemouth. Unfortunately, I couldn't generate anymore keeper bites in that area and left to fish an area I caught them in during the 2015 US Open.

I thought this was going to be a good decision as I caught a 2.25 lb. largemouth shortly after arriving, but struggled thereafter. It was about 12:30 before I had my next keeper bite. This time it was a 2.25 lb. smallie that crushed a crankbait. I fought the fish all the way to the boat, but had a mishap with the net that prevented me from landing that fish. Another big missed opportunity.

I made a run back towards launch and spent the last half hour in an area that's been productive for me in the past. I ended up missing a small keeper and catching a 3.3 lb. largemouth that really helped me. I ended up weighing only 3 fish for just under 7 lbs. but the two I lost would have bumped me up over 12 1/2 lbs. for the day and over 25 lbs. for the tournament, which would have been enough for the win. Definitely a hard one to swallow.

This was a complete junk fishing tournament. I caught my keepers on a Dirty Jigs Matt Stefan Guppy Head with a 3.3 Keitech, Dirty Jigs ½ oz.spinnerbait, Megabass Deep-X 300 crankbait and a Whopper Plopper. I rotated through 11 rods the entire event and caught fish on most, but the better fish came while power fishing. I'm looking forward to getting back out there for future U.S. Opens.