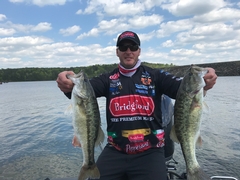 Smith Lake is my favorite Lake that we visit on the FLW Tour. It has always treated me well and I love catching spotted bass. This is a little later than I have visited it in the past, but it's still the spring and I felt comfortable heading into the week that I knew what was going to be going on. It didn't take long in practice to find that there were still a lot of fish on beds so I spent the first two days practice fishing shorelines I knew they spawned on and entered very precise locations into my Lowrance units. I did this because the water was rising from getting several inches of rain and I knew I would not be able to see the fish come tournament time. I was catching a lot of fish, but the problem was it was difficult to catch anything over two pounds. The spotted bass had really thinned out and didn't weigh anywhere close to what they have in the past.
By the end of the two days, I had only caught about 10 fish that were all between 2 – 3.25 pounds, which I was OK with since I figured I would save these fish and hit them to fill out a limit or upgrade. I spent the third day looking for largemouth and running a few docks to see if the females were staged on them. Luckily, for me I found a pocket that had some good spotted bass in it while I was looking for largemouth and got a couple good bites off docks to give me confidence in them.
I started the tournament way up one of the rivers where I found some spotted bass and decided I would start there to catch a limit, which I was able to do in the first couple hours for about 9 lbs. I then moved back down lake and started fishing some docks and points that I caught fish on in practice and found a scattered fish here and there. I was the last flight so I had all day and over the course of weeding through little fish I was able to catch one nice 4 lber and cull out a few smaller fish to finish the day in 45th place with 12 lbs. 4 oz.
I did the exact same thing on day two starting up the river and catching a small limit fairly quick. I was hoping for more but never got a big bite. So I moved back down closer to the dam and fished docks and some of the spawners I had found the rest of the day. I managed to catch two 3 lbers off docks, but found all my bed fish were either gone or had been caught. My total for the day was 11 lbs. 6 oz. and I finished the tournament in 40th place. Each day I lost two fish that would have gotten me into the cut, but that's fishing.
I really had a simple game plan for this event. I started the days throwing a Dirty Jigs ½ compact spinnerbait and a Dirty Jigs Finesse Swim Jig up the river to secure a limit. Then when I moved down lake I fished the docks and points with a 2.8 and 3.3 Keitech Fat Impact on various sizes of the Dirty Jigs Matt Stefan Guppy Head.
Next up is Kentucky Lake and I'd love to get out of there with a good finish and end the season chasing smallies on St. Clair!