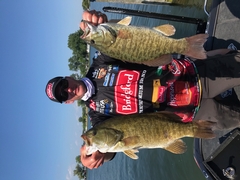 St. Clair is a phenomenal fishery and the weights were the best in FLW History, but it still is my least favorite Great Lakes Fishery. I say this because it is such a structureless lake that it's hard to find specific pieces of cover to make direct casts at which is how I like to fish. I'd rather cast at a target than fan cast an area any day. Regardless, I'd love to see it back on next year's schedule.

I went into this tournament unsure if I'd even get to fish it as my wife was due to have our second child on day four of the event. Because of this I chose to stay close to the ramp and fish Michigan waters. I spent my practice covering as much water as possible and found four primary areas that I thought had concentrations of fish on them. Outside of these areas it was hard to get bit and by the end of practice I found that the shallow bite (10ft) was much more consistent. Heading into this event I was 26th in points and didn't want to gamble on the few deep bites I had had so I decided to stay shallow and play it safe where I thought I could catch 17 lbs. a day and go home with the cup berth and check for a top 60. Boy was I wrong, the lake showed out and it took almost 18.5 lbs. to get a check.

On Day 1 I really struggles in the morning. I ran to my best couple areas and found the fish had completely moved on me. I was able to catch a few small keepers but by 12:30 only had a limit for 10 lbs. I then ran to another shallow flat that I had two good bites on in practice and found that there were a lot more there. Over the next three hours my Coangler and I culled out everything we had and I ended up weighing 18 lbs. 13 oz., which was only good enough for 52nd place.

On day two I decided to camp out on the area I caught them on day 1 since I thought it could produce an 18-20 lb. bag after what I saw on day 1. Unfortunately I lost the biggest bite I had all week and that cost me a check and an easy 1.5 lb. upgrade. By the end of the day I had caught 17 lbs. 6 oz. with a dead fish penalty and dropped to 70th with a total of 38 lbs. 3 oz.

I'm disappointed I didn't get paid, but I still made the cup and didn't miss the birth of me child. So all in all not a bad week.