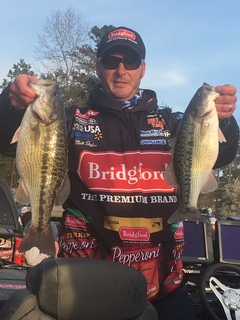 Lake Lanier is one of those lakes every bass fisherman should put on their bucket list of lakes to fish in their lifetime. I'd always heard that it was a good spotted bass lake, but never realized how good. There are loads of 2-4 lb. spotted bass with lots more even bigger, but you don't catch many under 14 inches. I think I caught six total short fish all week. Oh and by the way they are the fattest fish I've seen in a long time!

It didn't take me long in practice to figure out what I wanted to do. I caught fish almost immediately on a jerkbait and small swimbait. The problem was I got almost too many bites to narrow down the structure that the fish were relating to. I got bites on rock, clay, pea gravel from 4ft of water to 40ft of water. The fish were everywhere. Brush piles definitely seemed to help, but there were so many that it almost didn't seem to matter. Each day of practice I caught about 20 fish and had several 3+ lbers mixed in. The problem was I found no way to concentrate on getting bigger bites and am still not sure there is a way to do it other than just trying to catch as many as possible and weeding through the two pounders.

On day one I started fishing some deep humps with brush piles that I had caught 4 lbers from. I wasn't able to catch much so I moved to the bank and started fishing points with a jerkbait. I caught several 2 lbers but by 9 AM that bite died. I tried to force it until 11 AM but only had a couple of keepers. I moved to another brush pile and caught a 4 lber on a small swimbait but couldn't get any more bites. I then went to a shoreline stretch by the dam and caught another 3 lber and missed another. At this point, the sun came out so I hit a dock I had been bit on in practice and caught my limit fish at 1:15. I then started running and gunning brush piles for the last hour of fishing and caught 6 more keepers including two more 3 lb. class fish. All on the swimbait. I ended the day with 15 lbs. 2 oz. and was tied for 32nd.

I decided to start day two running and gunning brush piles, but that didn't work at all. It was overcast and the fish weren't in them yet. I went fishless until about 10 AM when I went to the bank and caught a 4 3/4 lber on a jerkbait. Other than that I couldn't make that bite work as it was getting late in the morning. I went back to fishing brush piles and started to slowly catch keepers and filled my limit by about 2:00. I had the long day and ended up catching several more keepers including one on my last cast to upgrade to 14-4 and squeaked into the top 30 cut in 29th place.

On day 3, I began fishing brush piles again and realized the fish were suspended high and cast my jerkbait out at them. I caught my first keeper with it and lost a big one shortly thereafter. I hit a couple other spots with no luck. With the overcast skies, I found I was getting little attention and struggled. The sun popped out around noon and from then until 2:00 when the rain came I caught 10 keepers and lost 4 others including one that felt very large. These bites were off of isolated docks and brush piles. I ended the day with 12-3 and finished the tournament in 21st.

I really struggled in the mornings and if I could do it all over again I would have thrown the jerkbait almost entirely until 10 AM. I realized on day 3 the fish were suspended much higher in the mornings and my swimbait was getting under them. In the afternoons, they set up by the brush or docks and were much easier to catch. I caught all of my weigh-in fish on a megabass 110 +1 jerkbait in various minnow colors and a Keitech 2.8 or 3.3 Fat Impact swimbait on a Dirty Jigs Guppy Head in weights from 1/8 oz. to 3/8 oz. depending on the conditions.

Overall it was a fun tournament. I'm not happy with losing the fish I did on Day 3, but that's fishing. Next up is Lake Cumberland which is flooded and muddy right now. It could be an interesting tournament!