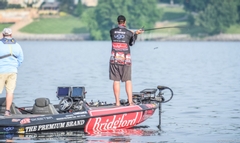 Kentucky Lake is my least favorite lake we fish in the country. I don't know what it is, but I continue to claw and scratch for every fish I catch there while it seems like everyone else is catching giants. This latest FLW Tour stop was no different. The fish seemed to be in a post spawn transition from shallow to deep and were scattered everywhere in between.

I spent about one practice day fishing shallow, one fishing mid depth and one day out on the ledges with very little success anywhere. I tried from the dam all the way south to New Johnsonville and just couldn't put anything together. Maybe that was my issue, I might have spread myself out to much and maybe next time I go I'll just pic one section and concentrate on it.

I started the tournament on a ledge near the ramp that I had three keepers on in practice, which was the best offshore spot I had found. I quickly caught one keeper and thought I might have been on to something, but three hours later I still only had that one 2 lber. I then started running some shallow water and caught another keeper off a lay down log on a spinnerbait at about 11:00. At that point, I noticed a little island of bushes in the back of a spawning pocket so I fished that and ended up catching my third keeper. I hadn't had a bite of a bush yet in practice but the one I caught gave me some confidence to fish the other bushes in that pocket and that turned out to be the best decision of the tourney for me. I was able to fill out my limit and cull once by about 1:30. I then spent the last couple hours out deep looking for a big fish but never got another bite. I finished day one with 12 lbs 3 oz and was tied for 68th.

On day 2, I started on the same ledge and again caught one 2.5 lber relatively quickly. But this time, I only made one pass and again couldn't put anymore in the boat. So at about 8:30 I ran into a nearby creek, found some bushes and began flipping. By 9:30 I had three more keepers, but then went dry until 11:30. I made a quick stop on another nearby ledge and caught my limit fish there. It was another 2.5 lber. I tried the ledges until 1:30 with no success so I decided to finish my day out flipping and was able to cull twice for almost 2 lbs worth of upgrades. I finished the day with 12 lbs 7 oz and moved up to 53rd with 24 lbs 10 oz. good enough for a check and I somehow managed to escape Kentucky Lake without a disaster. This is a classic example of why you should fish the moment and follow your gut. At the start of the tourney I had absolutely no intention of flipping bushes and by the end I realized that was my best option.

Only one tournament left and it's on Lake St. Clair. I'm really looking forward to it and am hoping I get to fish it. My wife is due to deliver our second child on July 1, which is the Sunday of the tournament. Hopefully, she delivers early or late, but if not I'll miss the tourney. Some things are more important than fishing!