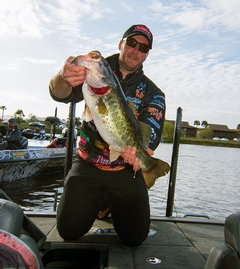 I have such a love hate relationship with Okeechobee. I love it because it allows me to fish my strengths. It's a shallow water grass fisherman's dream lake. I hate it because if you are not in the right spot when the big girls pull in it can be a 50 fish day with your best five weighing seven pounds. You almost have to pick an area to start not based on how your practice went but based on where you think the next wave of fish is going to move into.
I spent my first day of practice fishing up north in the Harney Pond and Monkey Box area. I got four bites all day. Two little ones in Harney Pond and two good ones in the Monkey Box. In fact, after watching the FLW Live show, I spent several hours in the two areas that produced the majority of the top 10 bags. There just weren't many fish their…yet. Apparently they started moving in on the last day of practice.
I spent day 2 of practice down south. After looking around there was very little clear water, but the best looking area had a lot of fish in it. It's the same area I made the cut out of the last time we were there and I started fishing the same stuff and got several nice bites between 3-5 lbs flipping a heavy weight into mats and cattail clumps. However, I wasn't getting nearly as many bites as I had in 2016. I spent the remainder of day 3 out in the hayfield searching for where the best concentration of better quality fish was and got a good handle on one area that seemed to have more males on beds that were 2 lbs or better. I could get bit everywhere in the hayfields but it was difficult to catch one over 1 ¾ lbs if you weren't in the right area.
I felt confident heading into the tournament that I could get one good bite flipping and finish off a limit in the hayfields if I needed to. Pros at the registration were talking about 10-11 lbs a day being what you needed to cash a check and I figured I could do that down south. So on day 1 headed south and started flipping mats. I had a bunch of bites but couldn't put the fish in the boat. I had one fish by 9:30 so I switched to the hayfields and finally filled out my limit by about 11. I then switched back to flipping and upgraded by a few ounces several times but couldn't get a big bite. With an hour left to fish I decided to move back to the hayfields were I knew I could get more bites and potentially upgrade a few more times before having to weigh-in. I decided to make a few casts with a top water and got rewarded with a 6 lber that saved my day. I ended up with 11-03 and was in 91st place.
On day two I went south again and this time started in the hayfileds with the topwater. I spent an hour with no success. I switched back to tossing senkos in holes and casting a swim jig and caught a small limit by about 9:00. I continued to fish in the haygrass for another hour making a few small culls, but knew if I was going to catch a big one I needed to go flip. I did that for the next two hours with no bites so again went back to the haygrass. I continued to cull by ounces and lost one two pounder on the topwater. With less than an hour left to fish I switched back to flipping and caught two 3.5 lbers and another 1 ¾ lber to cull me up to 11-03 for the day. I ended up dropping a few places and finished 94th.
This was definitely not the outcome I was looking for to start the year. I caught all of my weigh-in fish on either a senko, 3/8 oz. Dirty Jigs Swim Jig, or a 1 ½ oz weight with a Gambler Why Not. I'm looking forward to redeeming myself on the Harris Chain in a couple of weeks.