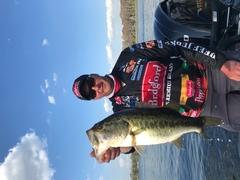 Usually in Florida the fishing becomes pretty one dimensional in that its shallow grass fishing. However, the Harris Chain offers so many different possibilities it can become an overwhelming body of water to fish. This year it has tons of offshore hydrilla, shell beds, current, shoreline grass and miles of fishable water that are connected by long no wake idles. Finding an area to camp out in is crucial to success on this chain of lakes.
I spent practice trying to do everything and that ended up hurting me. In total I spent about a day looking for bedding fish, one day fishing shallow shorelines and one day out in the grass. I never got onto a strong pattern and in hindsight feel like I spread myself to thin and should have picked one pattern and gone with it. They all produced some checks but overall the offshore hydrilla dominated this event.
It seemed like the fish in the hydrilla were spawning if you were closer to the bank and actually schooling in the deeper hydrilla in the 10ft range. In most places the hydrilla was only a few feet under the surface. Floating jerkbaits seemed to produce some of the best bags, but yo-yoing traps and chatterbaits produced big fish while dragging worms produced numbers of fish.
The first day of the tournament I spent three hours in Little Harris trying to get a deep hydrilla pattern to work where I had caught an 8+ lber in practice. Unfortunately all I caught were a couple of 12 inchers. I then went to the bank and ended up catching several spawning fish for about 11-12 lbs. I then spent the last couple of hours fishing offshore hydrilla in Harris and ended up catching one 3.5 lber to cull up to my weight of 12-15 for the day. Unfortunately I had a dead fish penalty that lowered my weight to 12-11 and put me in 72nd place.
I decided to start day 2 in the same place I caught the 3.5lber to end day 1 and found several of the top finishers were fishing in the same area. I spent the first 6 hours in this area and caught a bunch of keepers to get up to 12 lbs. but never put a big fish in the boat. I ran back to little Harris and spent the last couple hours fishing for a big bite and never got one. I ended up with 12 lbs. 2 oz. and finished in 81st place with a two day total of 24-13 lbs.
Overall, I feel like I fished well but just never got a bite over 3.5 lbs., which in Florida is what you need to move up the leaderboard. I'm looking forward to Lake Lanier in a week. It will be a nice change of pace after two events in Florida.