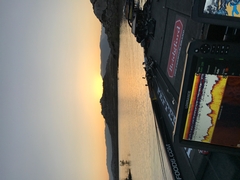 As much as I dread making the 1,500 mile cross country trip, I quickly forget about it after putting my boat in on Lake Mead in preparation for the WON Bass U.S. Open. This is one of the most prestigious tournaments in the country and is unique in that it is potentially the most difficult tournament to win while at the same time may be the easiest tournament to win. What I mean by that is one or two big bites can literally win you this tournament if you can also manage to catch a limit each day. The lake is full of fish, but can be difficult to catch keepers over 13 inches. But there are some really big fish swimming around and if you are able to get one big bite a day you have a really good shot at winning.
This is the second time I have fished this tournament and I had expected to build off the pattern that I discovered two years ago which resulted in a solid finish. Due to scheduling conflicts, I could only practice for a day and really was hoping that I could fall back on it. However, as customary in the sport, I couldn't get bit anywhere fishing my primary pattern from 2015. So I scrambled and found an area near the take off site that produced two fish around 2.5 lbs. in a short amount of time. I figured a short run would allow me to maximize my fishing time and give me the best chance at a decent bag.
The nice thing about the U.S Open is that it is a combined weight tournament with your coangler. This results in each team strategizing each day and allowed me to power fish almost the entire tournament, which I believed provided me with the best chance of catching bigger fish. My coanglers concentrated on fishing more finesse presentations and were able to catch several keepers each day. This worked well, except on day two we came up one fish short of a limit and on day three when I lost three fish of 2 lbs or more. This prevented me from having a good money finish and results in a 64th place finish overall.
We caught the majority of our fish on drop shot rigs, jigs, crankbaits and topwaters. Really, you can use almost anything you want at Lake Mead, which makes it a great tournament lake and a perfect site for this event. Water ranges in color from muddy to 20ft of visibility and has plentiful amounts of both largemouth and smallmouth bass. I'm looking forward to returning and getting some revenge on those fish!