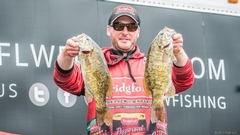 Going into the Mississippi River event I had formulated a game plan to fish for largemouths on Pool 8. However, after two days of practice I had trouble finding any solid concentration of largemouth that were not going to be in a community spot. I also found myself catching almost an even number of smallmouths as largemouths in the backwaters, which told me the smallmouths were in full blown spawn mode. Because of this I decided to fish a couple of areas that I thought smallmouth would spawn on and ended up finding two areas on Pool 8 and three on Pool 9 that were loaded with smallmouths, just not many over 3 pounds. I would waypoint each bite I had and estimate the size of the fish and then record detailed notes into my Lowrance unit to remind me exactly were the fish was.
On Day one of the tournament, I went directly to two fish that were right next to each other in pool 8 and caught both. One was about 3 ¼ and the other was about 2 ½. I then ran to another big fish that was close to 4 pounds on my way to pool 9 but could not get the fish to bite. I'm not sure if it was there or had been caught or just moved out. I then locked down to Pool 9 and struck out on my next two big fish. I then ran to a different area and quickly boated another 3 ¼ and a 3 ¾ lber. I also caught another nearby 2 lber just to fill out my limit. On the way back to the lock I hit one more bed and caught another at about 3 ¼. At this point I had around 15 lbs and locked back to Pool 8 to fish new water. I ended up catching two more big ones close to 3 ¾ lbs. I ended the day in 1st with 18 lbs even.
On day two I again started in Pool 8 on a couple fish I saw at the end of Day 1. I couldn't get either to bite, but did end up catching a small keeper. I then ran down to Pool 9 and went to the fish I had marked as 2 ½ lbers. I quickly caught 5 and locked back up by about noon. Unfortunately, I couldn't cull anything out on Pool 8 and finished the day with 12 lbs 14 oz and made the top 20 cut in 3rd place.
On day three I ran straight down to Pool 9 and went to the remaining fish I had marked but could only scrap together a limit for about 11 pounds. At the end of the day I ran into an area that I hadn't fished but looked good and culled twice with a 2 ½ lber and one close to 3 pounds. After that I ran back to the lock and found a barge blocking it. As I waited for the barge to go through I culled once more with a 3 lb largemouth. Luckily the barge made it through with about 7 minutes to spare and I got back to check in on time. I ended the day with 13 -5 lbs and made the top 10 cut in 4th place.
On day four, I knew I was out of fish but wanted to check one more area in Pool 9, but it only provided one small keeper. I then scrambled around and was able to put a limit together for about 10 lbs by 1 PM. At this time I switched over to largemouth and ran deep into the backwaters. In the last 45 minutes of fishing I was able to cull twice with 2 ½ lbers but never got a big bite. I weighed in 11-5 lbs and finished the tournament in 8th place.
This tournament was another good learning lesson for me and proof that you should not enter a tournament with preconceived notions. I do wish I had completely fished largemouth on Day four but overall I am happy with how I managed my fish. Had the weather stayed somewhat consistent I think I could have kept catching smallmouth, but as the water rose and cooled off by 10 degrees there were very few fresh fish moving into the spawning areas. There is one tournament left on the Potomac River. I'd like to go there and lock up a Forrest Wood Cup birth and make some money to end the year.