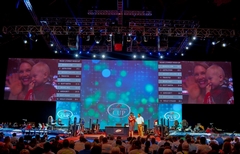 Andy Morgan said it best on stage at the Day 1 Weigh-in, "I feel like I walked into an ambush!" Heading into this event the majority of the competitors thought this was going to go down similar to the 2014 cup. Limits would be tough and any weights in the teens would be a solid bag. As it turns out if you weren't catching close to twenty pound bags you might as well pack up and go home.
I was hoping to get on a similar bite to the 2014 Cup that helped me finish 13th, but after the first practice day I became aware that it wasn't going to happen. The water was about a foot lower and that really hurt my bite from 2014. Instead I stayed in the lower end and got onto a strong buzzbait bite. There was no specific pattern to when or where I was going to get a bite but when I did it was quality and it seemed like there were more fish in that general area. I was averaging between 8-15 solid bites a day in practice and thought I could catch 12-16 lbs. each day.
On day 1, I ran with the buzzbait program and managed to get 7 quality bites. Unfortunately, only four made it into my boat for about 9 ½ lbs. One of the three I lost was easily the biggest fish I saw all week and I estimated to be six pounds. That would have given me a 15 lb. bag and put me in good position. Unfortunately, the 9 ½ lbs had me sitting in 30th going into day two.
Since I was all in on the Buzzbait bite I continued with it on Day 2. The problem was the conditions changed with the sun coming out and the weekend boat traffic took over. It became very difficult to fish a lot of the areas I wanted to due to giant wake board rollers hitting the banks. I only managed four quality bites on Day 2 and only one little 1 ½ lber made it into the boat. At about 11 AM I knew conditions had changed but decided to force the topwater bite as it was the only way I knew how to get big bites that could move me up.
All of my fish came on a ¼ oz. Dirty Jigs Canterbury Pro Buzz with a silver blade. I was using a Zoom horny Toad in White as my trailer. It's a pretty basic setup, but this combination is the best skipping buzzbait on the market.
If we go back to Lake Murray, I can assure you that almost the entire field will be fishing the herring bite on offshore points with cane beds. It truly was a dominating performance by the top finishers and a big congratulations to Justin Atkins for winning the Cup!