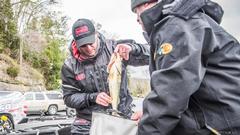 Heading into this tournament on Lake Cumberland all I kept hearing about was if you want to win that you need to figure out how to catch five legal smallmouths. The difficult thing about this is that the legal limit is eighteen inches and catching five eighteen inch smallmouth on any lake in the country is not an easy task, even on some of the most prolific smallmouth fisheries in the country. But, I felt confident going into this event that if I concentrated on smallmouth I would be able to mix in a couple keeper largemouth and spotted bass with the legal smallmouth I caught to have a solid mixed bag of fish.
I spent my first two practice days in the lower third of the lake sampling points, pockets, channel swings and everything in between from the backs of the creek arms to the main lake and found a pretty consistent theme. This was that if I keyed in on smallmouth I was not catching largemouth or quality spotted bass mixed in. I was catching lots of smallmouth but only had five legal smallies over the first two days. I also found that I wasn't able to find any numbers of quality largemouth near the areas I was fishing smallmouth. Cumberland is a huge lake and when mixing in the giant no wake zones one can really burn a lot of time traveling from the takeoff site to the lower end of the lake and idling back and forth thru the no wakes. Because of this I was really trying to find an area that I thought I could fish for smallmouth and largemouth in close proximity, but I was having difficulty doing this. Obviously, based on the results several of the top finishers were able to find patterns that allowed them to catch all three bass species fishing the same pattern, but I can assure you it was not an easy thing to do.
After mulling over my first two days of practice I decided to spend my final day of practice solely on largemouth. I knew I could catch smallmouth and given enough time could mix in legal smallmouth, but I felt like it was a big risk to solely fish smallmouth. I figured if I could get a limit of largemouth that alone would be close to check range and allow me to fish more freely for smallmouth knowing I had a limit. So I spent the day running around checking out a lot of places and found one area that produced several keeper bites. Not giants, but two pounders. Keep in mind the consensus was that it would take 19-20 lbs. over two days to cash a top 50 check. So a limit of 15 inch largemouth both days would probably be near 20 lbs. I felt confident I could catch a limit of largemouth and hopefully have enough time to search for smallies.
On day one, I headed to my largemouth and was surprised at how well they bit. My first spot gave up four keepers with three of them being over 2.5 lbs. and my second spot filling my limit and allowing me to cull once. It was 9:30 when I made the cull and had close to 13 lbs. I felt this was a good bag and left to go further down lake for smallies. I managed to upgrade with one legal before having to head in with the rest of the first flight. I ended the day with 13 lbs. 14 oz. and was in 37th place. They definitely caught them better than I thought they would.
On day two, I had a long day and decided to concentrate on largemouth again. I was able to catch a small limit by 9:30 for about nine pounds but knew that would not be enough for a check. So, I continued to grind in my area and caught a couple of 3 ½ lbers around 11:30. I knew I was in check range now but had a couple of small keepers I needed to get rid of if I had any chance of making the cut. Around 12:30, I caught one close to four pounds which really helped. Unfortunately, I was not able to cull out a two pounder by the end of the day. I lost a couple that would have helped and thought I was going to fall short of the cut. Luckily for me the weights dropped on Day 2 and my 15 lb. 12 oz. limit moved me all the way up to 12th place and inside the top 20 cut.
On Day three, I decided to stick with my game plan fishing largemouth and headed back to my same area. I knew I had beaten it up good over the first two days but thought there might be an outside shot new fish would be moving in with a full moon only days away. I really picked apart the area, but could only manage a couple of keepers and a bunch of shorts. In hindsight, I wish I had either picked a new area that looked similar to the spot I had fished or switched up and swung for the fences by going after smallmouth. My two fish limit ended up dropping me to 20th place. A disappointing day, but overall a solid tournament that moved me up to 40th in the AOY points and back into Forrest Wood Cup qualification contention.
I started practice with about 20 rods on my front deck, but by the tournament had really narrowed down the choice of baits to a couple of rods. For largemouth, I primarily relied on a Dirty Jigs Luke Clausen compact Pitchin' Jig in The Go To color. I used this on any rock transition banks I could find and if there was wood around, it was even better. If I wasn't tossing the jig around, I was using a War Eagle ½ oz. Nickel Screamin' Eagle spinnerbait. For smallmouth I relied on a soon to be released Dirty Jigs 3/16 oz. Guppy Head and a Keitech 4" Easy Shiner in any shad color.
Cumberland was a beautiful lake that was full of quality fish and I would like to go back. It's a great tournament lake and the locals really appreciated us coming. Up next is Beaver Lake in a couple of weeks and I expect to keep the positive momentum rolling!