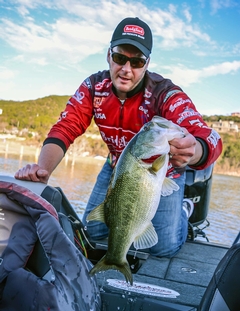 Every year it seems like there is one tourney that turns into a survival event for the entire tournament field. It's the kind of tournament that can make or break your season and every angler just wants to survive it and move onto the next tournament. Well, I feel comfortable in saying that this year's survival event was Lake Travis. It's a low weight fishery with a ton of fish in it, but just not many over the 14 inch size limit. Throw in the fact that there are some big fish swimming around and it becomes a really tough tournament to have any sort of consistency on.
On paper, Lake Travis doesn't look like a big fishery, but it fishes quite large and is really spread out. There were fish in a foot of water down to fifty or more feet deep with bushes that have been recently flooded in just about every depth range. This made it difficult to fish some baits and created a unique fishing experience that we don't normally see on tour.
Throughout my three practice days, I fished all over the lake but settled in the upper river portion about thirty-five miles up the river. It seemed like I had more consistent action from keeper size fish in this area. I jumped back and forth from shallow to deep water but found that as I went deeper I caught smaller fish. Every time I caught a big one it was bank related so that's what I keyed on the last day of practice and in the tournament. The most frustrating thing about practice for me was that there was no pattern to the keeper bites and you had to fish everything in front of you. In fact, I was getting so many bites from short fish that it actually made it more confusing to try to decipher a keeper bite pattern. In practice, I caught fish on topwaters, crankbaits, jerkbaits, texas-rigs, swimbaits, jigs, finesse presentations, and floating worms, but found that the jig was providing better quality so I utilized that more in the tournament.
The first day of the tournament, I was in the last flight and therefore got a long day to fish. This allowed me to run around and try a lot of different areas and really slow down to drag the jig in the areas that I felt most confident in. By the end of the day, I had nine keeper bites and landed seven of them. The two I lost were in the three pound class and pulled off halfway to the boat. I caught one keeper on a texas rigged Gambler Why Not, five keepers on a 7/16 ounce Dirty Jigs Luke Clausen Finesse Jig, and one keeper on a 5/8 ounce Dirty Jigs Tour Level Footbal Jig. It really didn't seem to matter what color I used as long as it was green pumpkin! By the end of the day I had culled up to 11 lbs. 15 oz. and was in 35th place.
I knew the second day would be tougher for me since I had a significantly shorter day to fish. I began running some of the same water I fished the first day but had little action, even from short fish. I lost one keeper in the two plus pound range around 9:30 and followed that up with my one and only keeper around 10:00. I then began running some new water and caught more fish, but just couldn't generate keeper bites. At about 1:00 I lost another fish in the 2 ½ pound range, but would never have another keeper bite before I headed in a little after 2:00 PM. I'm not really sure what happened to my fish, but I did have considerably more pressure on the areas I was fishing the second day, which I know did not help me. Ultimately, I ended up with a total of 15 lbs. 15 oz. and finished 95th, just a few pounds out of the money.
This is a sport of ups and downs. When times are good you put each and every bite in the boat. When times are tough it feels like you can't do anything right. I'm just not catching the breaks right now, but I know I'm putting myself in the position to have really good tournaments. In all three events I have fished this year, I had the fish on to make the cut or get paid. I just need to start capitalizing on the bites I get, which I know will happen. ! Just have to keep fishing!