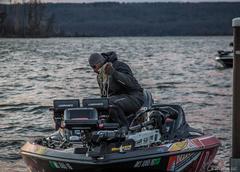 A 71st place finish is not how I wanted to start my 2017 Tour season. I felt confident heading into the tournament on Lake Guntersville that I would be able to establish a pattern and build off of spots I had found in previous trips to the lake in the month of March. However, I quickly realized that the fish were still in their wintering phase and overall in a lethargic mood. I spent the first practice day on the southern portion of the lake and only got a couple of bites. I also didn't find any grass that was in healthy condition so I decided to try up the river on the second day.
This seemed to be a good move as I fished some water I have done well on in the past and found that it still was holding quality fish, including a 7 ½ lber that ate a big swimbait. By the end of the day, I had caught or shaken off what would have been a low twenty pound bag, which had me feeling pretty confident. I spent the third day of practice up the river trying to build on my pattern and ended up finding three more small concentrations of fish. By the time the tournament started I had about 7 spots that I felt confident in and were close enough I could easily rotate through them.
On the first day of the tournament I found that the fish were still biting and in the same locations. I ended up catching 10 keepers, but unfortunately lost all four big bites I got. I saw two of them, a 3 and a 4 ½ lber, both of which came off at the boat. The other two were just plain BIG and I could not move them before they pulled off. Ultimately, this resulted in a disappointing day 1 with 11lbs. 11 oz. and a 78th place finish.
I spent day two rotating through the same spots since they had been productive on the first day. Again, I was able to get bites in each of the areas but found that the size had gotten smaller. I caught the same number of fish, but just a lot more shorts and again lost my key bites. Specifically, five fish that all would have helped me since I only weighed-in four fish. I only saw one which was a three pounder that came off at the boat, but the other four all felt good. I'm not suggesting they were giants, but at least keepers. Another disappointing day ending in 7 lbs. 5 oz, which somehow actually moved me up to 71st place. That just shows how tough Guntersville was fishing.
I've spent a lot of time reviewing my tournament and trying to figure out what I could have done differently to put the fish I lost in the boat. I caught eight of the nine keepers I weighed-in on a Dirty Jigs Swim Jig in Guntersville Shad. This is a bait that I have complete confidence in and have a great hook-to-land ratio with, but for some reason struggled this tournament. Several of the fish either bit on the end of a long cast or bit near the boat and continued to come straight at me. In both those cases, I could see my hooksets not penetrating well, but in all of the lost fish I really felt like I had gotten a solid hookset.
This was a tournament that could easily define the year. Several top pro's faltered and it was an opportunity I let slip to get some valuable points and come home with a good check. It's disappointing in that I had a good game plan and was on fish, but failed to put them in the boat…that's usually the easy part. I'll take the positives from this tournament and use them to continue to improve in the future but am having a hard time swallowing this finish.