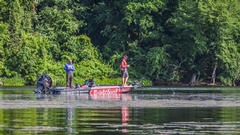 After making three consecutive cuts, I was looking forward to ending the regular season on the Potomac River. It is a shallow weed fishery and fits how I like to fish. The only thing I don't like about it is that it seems to fish small and it's tidal, which adds one more element to figure out. I've been there twice before and had mixed results. The first time I was there I ignored the tides and fished everything in reverse and it ended up burning me but taught me a lot. The last time I was there in 2015 I cashed a check and utilized what I learned the first time I was there to my advantage. So I felt comfortable heading into this event.
I decided I would spend the first day of practice fishing spots I have done well in before. The first spot I went to had some fish but not anything great so I decided to make a move. When I did this I heard a loud pop when I turned the key and could not get the motor to start. Being that it was Sunday I couldn't get it to a mechanic until Monday morning and after diagnosing the problem could not get a new part any earlier than Tuesday morning. I finally got back on the water at 1:00 PM on Tuesday and tried to cover as much water as possible, but never found anything other than some random fish.
Going into the tournament, my number one goal was to figure out a way to catch two decent limits to secure my Forrest Wood Cup spot. I figured if I could catch 10 pounds a day it would be no problem and I could move onto Lake Murray. On day one I decided to head back to the area I have fished the most over the years and quickly caught a 12 pound limit. Feeling good about this I decided to leave around 9:30 and go practicing since I hadn't had the chance during official practice. I managed one small upgrade and finished the day with about 12 ½ lbs. and to my surprise was in 115th place.
I decided to commit to my starting spot on day two since I knew it had produced some big bags and I felt it was my best chance to catch a big bag with my limited practice. It was much tougher than the first day and I never got a big bite ending the day with about 11 ¼ lbs. This dropped me into 127th spot, but did secure my spot in the Cup. In hindsight, I should never have left the area on the first day. The boats that stayed caught them good all day and I feel strongly I could have upgraded. But I never thought it would take 15 lbs. a day to cash a check. After all, I finished in the 40's and cashed a good check in 2015 with a quarter pound less than I weighed this time.
I didn't do much different than the majority of the field. I had three Senko's in different colors rigged on the deck of my boat, two Dirty Jigs 3/8 oz. swim jigs in different colors and a frog. Pretty standard Potomac River fishing, but always seems to produce.
This was a tournament that I'll forget about and move on. Not having a practice is a big disadvantage and gives me a good excuse to use and not rattle my confidence. At this point, I'm very excited to be going to the Cup on Lake Murray and get a second shot at the fish that broke my heart in the last Forrest Wood Cup that was there.