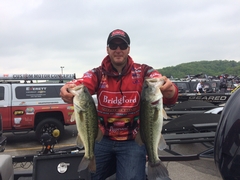 The goal of fishing tournaments is to win every event you fish. Do I go out with the mindset thinking I can win every event? Yes. Realistically, will I win every event? No. It's important to believe in yourself but we all know the odds are against us when it comes to actually winning an event.
Beaver Lake is a tournament site that I really enjoy going to. Not only do I think it fits my fishing strengths, but it's a venue that really levels out the competition. One big bag can carry you into the finals and two big bags can make you hard to beat. This year, I really felt good going into the event and knew if I got 8-10 bites a day I would have a good shot at doing extremely well since the pattern I was on was producing solid keeper largemouth bites. I just wasn't sure if it would hold up during the tournament since the Lake rose by three feet after getting several inches of rain on our off day before the tournament started.
In practice, I found that I could get a lot of bites fishing transition banks with finesse tactics like dropshots, shakey heads and Ned Rigs, but I wasn't catching many keeper fish. Usually when we visit Beaver Lake it is more prespawn, but this year it was more post spawn and because of this I think a lot of the quality fish I could catch in the same spots in the past years had spawned and were in different locations. So, I began looking for post spawn fish that would be in the spawning areas guarding fry. I found that I could get bit pitching a Gambler Why Not into isolated bushes and sawdust piles and mixed in a few on a floating worm and shakey head in between pitching bushes and sawdust piles. It wasn't fast and furious action but it was enough bites that I knew if I committed to it that I had the shot at catching some good stingers.
With the water rising three feet the day before the tournament I was concerned my pattern might not hold up. But I quickly found that it was still in play after I got to my first spot. Unfortunately, I just had some mishaps that cost me. I broke off three fish, which never happens to me. On one I had my leader knot pull apart, so that's on me. The other two I had the fish out of wood and into open water and the line just broke. I must have damaged it and not known or hit a stretch of bad line since they were back to back. Two of the fish were in the 3 pound class and would have really helped my bag. I should have come in with around 14 lbs., but ended up with 10 lbs. 10 oz. and was in 33rd place after day 1.
On day two the fishing seemed to be more difficult in the morning. I was able to catch a couple on the floating worm but was still short of a limit at 1 PM with two small spotted bass and two decent largemouth. I made a move to a different part of the lake and was able to catch my limit fish and cull out both spotted bass by flipping the Gambler Why Not. This culled me up to 12 lbs. 3 oz. and into 12th place making the top 20 cut.
On day 3 we had a major storm move into the area bringing nine inches of rain. The storm began around noon and prior to it the fish were very active. Unfortunately, for me my execution woes continued. I found a pair of spawners and caught the male which was a little over 15 inches. The female moved up and ate a senko, but I was unable to keep her buttoned up. She just pulled off after a couple of headshakes and never returned. She was easily three pounds. I then lost a couple of 2 ½ lb fish on a floating worm and around noon lost two more 3 pound class fish on the Gambler Why Not. Other than those bites I was only able to catch two other keeper largemouth and one small keeper spot. I ended up coming in with four keepers weighing 5 lbs. 14 oz. and dropped to 18th place and missed the top 10 cut.
I know everyone talks about the shoulda, woulda, coulda's but in this case I know this was my best opportunity to win an event so far in my career. I just failed to put them in the boat. On the bright side, normally if you lose a couple of key fish you drop into the bottom of the field. In this case, I lost eight fish that cost me and I still finished 18th. Not bad I guess, but it still stings. It did help me in the AOY point race and I am currently sitting in 25th place inside the Forrest Wood Cup cutoff. I just need to keep cashin' checks!