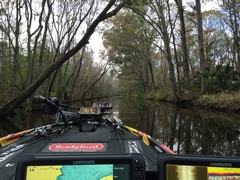 What a disappointing way to start the season. I had expected to do well on the Harris Chain since I like fishing in Florida. It reminds me a lot of Wisconsin in that the lakes are weed filled and power fishing dominated. My standard to breaking down Florida lakes is to take a Dirty Jigs Swim Jig and cover as much water as possible until you find schools of active fish. Once I've found fish I'll sit in those areas and weed through little fish looking for five big bites. But for some reason I didn't do this.
Instead, I got caught up my first day of practice in the idea of catching 8-10 lb. bass of beds. This is a technique I consider myself pretty good at, but I should have known better. As I went from channel to channel I found several fish on the first day that were well in excess of six pounds and one that was easily ten plus pounds. Even the males were quality with lots of fish in the three to four pound range. Since, I saw so many quality fish I decided I would expand on the sight fishing pattern and spent almost my entire four days of practice looking and by the time practice started I had hundreds of beds Identified.
At the pre-tournament meeting I was given a boat number of 116, which was not at all what I was hoping for. By the time I ran to my best two fish, both in the eight plus pound range it became apparent that the majority of the rest of the field decided to do the same thing. Both of the big fish were gone and I assume had been caught since the males were gone as well. I then ran to a third channel and found that all the good bed fish had boats on them. At this point, I went into scramble mode and caught a couple small bed fish and then decided to spend the last three hours fishing. This proved to be a decent move as I caught a three and a four pound fish with lots of other keepers mixed in. Unfortunately, I didn't leave enough time to cull up to a big bag. The second day, I continued to fish and caught a bunch of keepers but only had one decent three pound quality bite. I ended the tournament in the bottom half of the field and am quite disappointed. However, I feel like I have a better understanding of what I should do when I go to Harris Chain for the FLW Tour event in March.
In hindsight, I know better than to put all of my eggs in one basket. I should have spent at least half of my practice time trying to expand on backup patterns in case the bed fishing pattern failed, which it did and I should have known it would. The main spawning wave moved in the Wednesday and Thursday prior to the tournament start. There was a large local tournament on the weekend prior to the tournament, which put a dent in the spawners and there were lots of locals and other tournament anglers prior to the tournament sticking the remaining bed fish. This made them extremely skittish by the time the tournament rolled around. I was also counting on additional fish to continue to move into the spawning areas since the weather was stable and warm, but that never materialized. Which seems to be the case in Florida since their spawning season is roughly five months long and the waves seem to come in at the same time with significant dead periods until the next wave moves in. Ultimately, I'll move on to the next event having learned a lot and even more motivated to do well on Guntersville for the first FLW Tour event of the season.