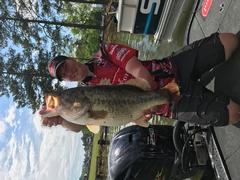 After a really poor showing in the first BASS Southern Open on the Harris Chain of Lakes I knew I would need to fish for the win to have any shot of making a big move up in the points and realistically was only fishing for a chance to make the Bassmaster Classic by winning the event. I spent some time looking for spawners during practice but only found a couple that were of any size and therefore concentrated my efforts on shallow offshore shell beds. A good portion of the fish had spawned already and were out chasing shad on these hard high spots. I didn't get many bites doing it but when I did it was usually a good one. I caught several over six pounds in practice and this had me thinking if I could get enough bites during the tournament I could compile a big bag of fish.
On the first Day of the tournament, I ran to a couple of bed fish and only found one remaining. It was close to a four pounder, which I caught, but the pair of big ones and another that was locked and over four pounds were all gone. I then ran down lake to a shallow shell bed and caught one around 3 ½ lbs. and my co-angler got one over 6 lbs. So I was feeling good that I was going to get the bites. Unfortunately, I camped out on this spot to long and never caught any more keepers. I also hit several other shell beds and could only catch shorts. With a couple of hours left in the day and only having two fish in the well I decided against going shallow and trying to secure a limit since I thought I needed a 20+ lb bag of fish to have a shot at doing well. In hindsight this was a mistake and I ended up weighing two fish for about 7 ½ lbs.
On Day two, I ran down lake to the shell bed that produced fish the first day but only caught a couple of short fish. I then went to another shallow bar that I found last time I was on Chickamauga and quickly caught one over 10 lbs! But this was the only keeper I caught on the spot. At this point I knew if I could catch a couple other good fish I had a legitimate shot at moving up the leaderboard and at the very least could cash a check after the bad day 1. Unfortunately, by 1 PM again I was unable to get the offshore bite going so I decided to go to a shallow pocket that had a lot of fish in it during practice and was able to catch four more small keepers to fill out my limit. I ended up weighing a little over 18 lbs. but still fell short of the money and finished 71st. I didn't even win big bass with my 10-3 lunker.
This is just another example of how important it is to secure a limit of fish in every tournament. Regardless of if you are fishing for points or just the win, without a limit you can assume you won't have a shot at either. Had I went to the bank on day one and caught three small keepers I would have moved all the way up into the 20's in standings and taken home a good check.