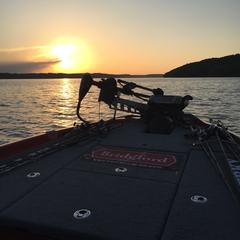 I really thought Pickwick Lake was going to turn into a ledge battle. Fish have been spawning there since the end of March and I figured that a lot of them would be recovered from the spawn and looking to put on their feed bag. Unfortunately, after my first day of practice I came to the realization that this tournament could be won from 1 foot of water out to 30 feet of water. Fish were in all different transitional stages. Some were still in the prespawn and others were out on the ledges. This made it difficult to key in on any specific pattern since the fish were so spread out and bites were relatively difficult to get.
Each morning there was a very strong shad spawn taking place on any hard object. The problem was the shad spawn was so prevalent that it was a bad thing for fishing. Just because you found an area with a good shad spawn didn't mean there were bass nearby. In fact, the majority of the areas I found with a big shad spawn did not produce any bass. The other issue with the shad spawn was that it only lasted for an hour or so in the morning. So, if you chose to start on a shad spawn then you might not be able to get your first good ledge spot.
Once the shad spawn ended, I spent the majority of my practice looking for ledge related fish. All of the areas I found with fish on them were not main river channel ledge and for the most part were just outside of spawning areas. The problem was that they weren't grouped up yet and it seemed like you could catch one or two off a spot, but never get a flurry of bites that the TVA lakes are known for.
I decided to start my tournament on a shallow shell bed that had a shad spawn taking place in the morning. I spent the first couple hours of the morning on it since I caught some really nice fish off of it in practice, but I could only manage a bunch of short fish. At this point the wind began howling down the main lake and prevented me from fishing a lot of my other spots. I bounced around and was able to muster up to small keepers off shallow ledges on a football jig, but could only muster up two keepers for 3 lbs.15 oz.
I started the second day on the same shell bed from the first day and immediately began catching keepers, but similar to the first day all but one were short. I then started rotating through other offshore places that I wasn't able to fish the first day due to the wind and caught lots of fish with an occasional keeper here and there. By the end of the day I was able to catch a limit for 10 lbs. 6 oz. but never got a big bite. I didn't think I would catch a ton of big fish after practice but each day I was getting a 6 lb. bite and several in the 3-4 lb. class.
I'm really disappointed with my finish as it hurts my chances at making my third Forrest Wood Cup in a row. I'm currently tied for 60th place and about 63 points out of the cutoff for the Cup. I'm going to need to make the top 20 cut in the last two tournaments to have a shot.
I used a variety of baits at Pickwick lake, but my most productive were a Xcalibur XR50 in sexy shad when fishing shallow ledges with grass on top, a ¾ oz. Dirty Jigs Tour Level Football Jig in The Go To color and a Green Pumpkin Zoom Magnum Trick Worm on a ½ oz. Dirty Jigs Magnum Stand Up Jig head when fishing the shell beds and deeper ledges. For the shad spawn my two best baits were a Heddon Super Spook in the Flitter Shad color and a 3/8 oz. White Dirty Jigs Swim Jig tipped with a Reaction Innovations white trash Skinny Dipper.