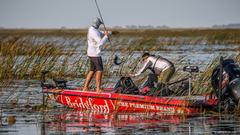 After a 65th place showing at Lake Toho, I wanted to go to Lake Okeechobee and start the FLW Tour season off with a decent finish and leave Florida with some money. One thing I have learned over the years is that the saying, "Florida can't make your season, but it sure can break your season" is extremely true. All of the anglers want to start the season with good points and get out of Florida in good position to make the Forest Wood Cup.
This is the fourth time I've been to Lake Okeechobee and have experienced mixed results. In my first tournament, I finished in the 140's, but I have since finished 50th and 26th, respectively. I feel like I'm starting to get a better understanding of the fishery, but ultimately I still believe a large part of an anglers success comes down to finding the portion of the lake that is fishing the best and then finding the pods of fish within those areas. These areas of the lake are several square miles and just because you found the part of the lake that the fish are most active in doesn't ensure you are going to do well in the tournament. A lot comes down to connecting with a couple of big bites and putting them in the boat.
In previous years, I've spent most of my time fishing in the Monkey Box/Northshore area of the lake and I actually went into this tournament determined to stick it out in that area. It seems like the Monkey Box area routinely pumps out the most checks and has the best quality fish in the lake. So, on my first practice day I headed up to the Northshore area, but was not happy with what I found. The lake was up two feet higher than in the past due to recent rains and because of this, all of the hydrilla, which is normally exposed, was submerged. This created two major issues for me. First, it was difficult to find the hydrilla weedlines and there was a lack of hydrilla mats, which resulted in fewer high percentage areas to fish. Secondly, the moving bait bite with swim jigs and swimbaits was not nearly as good as in the past. I attribute this to the high water. Normally your moving bait is ticking the tops of hydrilla in 4-6 feet of water, but in the high water the bait was in 6-8 feet of water and I don't believe the fish were as willing to come up out of the hydrilla to eat the moving bait.
With an hour of sunlight left on my first practice day, I decided to run to South Bay to see what it looked like. I had completely written off South Bay prior to practice but I'm glad I made the run to check it out. In that hour, I caught several fish, nothing big, but got consistent bites. On Day two of practice, I decided to head back to South Bay and explore around. I found multiple areas where I could catch fish consistently on a swim jig and a Senko, but overall size was not impressive. Later in the day I picked up some flipping gear and found an area of cattails that resulted in several three pound bites and one pushing seven pounds. This gave me a lot of confidence that the females were there, but just hanging around the thick stuff. I spent my last day searching for more areas in South Bay and eventually found one other good area (Bradley Hallman's winning spot) where I caught a 5 and a 6 pound class fish.
On Day one, I decided I would fish where I had caught the 5 and 6 pounder, but by the time I got there, three other boats were already fishing it so I continued on to my other prime location. I thoroughly picked apart the cattails with a 1 oz. Dirty Jigs No-Jack Punch Jig and caught a total of nine keepers for a total weight of 15 lbs. 7 oz. and finished the day in 17th place.
On Day two, we had a major cold front and 20 mph north winds, which made it difficult to fish my area. I'm not sure how I would have been able to do it without my Power-Poles. Additionally, the wind had blown a bunch of dead grass and pads into the cattails making it almost impossible to punch through with the jig so I had to upsize to a 2 oz. punch rig with a Gambler Why Not. I only caught one fish punching on Day 2, but it was close to 6 lbs. The rest of my limit I filled out with a Dirty Jigs swim Jig in various black and blue colors and managed to weigh 12 lbs. 15 oz. moving me up to 11th place.
On Day 3, I went back to my main area and got fewer bites. I was able to secure a small limit for about 6 lbs. by noon both pitching and throwing a swim jig, but never got a big bite. With about 40 minutes left to fish I decided I would make a run further east to Pelican Bay. I had a spot there I knew I could catch several 1 ½ lb. fish fast and since I had two fish that weighed 12 ounces and one that weighed 1 lb. 1 oz. I figured it would at least move me up a few places if I could catch them. During my forty minutes of fishing time in Pelican Bay I caught six keepers and lost several more. Nothing bigger than 1 ½ lbs., but it did allow me to cull up to 8 lbs. 10 oz., which was good enough for 13th place in the tournament.
I really wanted to make the top 10 cut, but overall it was a good start to the 2016 season. I've got some time off now before the next event on Lake Hartwell and I'll use it wisely to do as much research on the lake as possible. I'd love to make it back-to-back cuts!