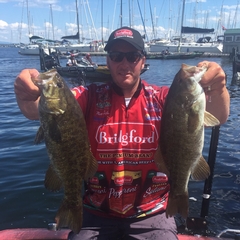 The 2016 FLW Tour season has come to a close way too early for me. I had some bad breaks throughout the season that put me in a tough spot heading into the final tournament of the year. I figured I would need a top 10 to qualify for my third straight Forrest Wood Cup and in the end I needed to finish 11th or better. I knew after my practice that I had a shot at making a top 20 cut, but after day 2 I ended up a few ounces short and finished in 25th. This left me 14 points out of the Forrest Wood Cup and overall in 38th place, two spots out.
Our three days of practice on Lake Champlain were for the most part windy and rough on the big water. This forced a lot of the anglers to seek protected areas that received significant pressure by the time the tournament started. I chose to spend all three of my practice days in different parts of the lake and did a lot of drifting for smallies focusing on rock/sand transitions similar to what we do on the Great Lakes back in Wisconsin. I figured if I could catch them in the wind that I'd be good to go come tournament time when they were calling for much calmer conditions.
After my three days I had found three ¼ mile stretches of shoreline in 6-18 feet of water that produced multiple quality smallmouth. I felt that all three of these locations could produce weights in the 17 lb. range, which I thought might give me an outside shot at the top 20 cut. In practice, I caught the majority of my fish on a Megabass Vision 110 in the perch pattern, Small swimbaits like the 3.8 keitech, and a 4 inch Senko rigged on a Dirty Jigs Stand-Up Finesse Jighead.
I started Day 1 fishing near the ramp in one of my three main areas. I had about 14 lbs. in the livewell in the first couple hours using the Senko and Jerkbait. I decided to move north and quickly started spotting beds. At this point, I began looking for beds and realized that a lot of the fish I caught in practice were actually spawners. So I began running waypoints were I caught quality fish in practice. I believe I was able to upgrade several times with bed fish that were the same fish I caught in practice. By the end of the day I had 16 lbs. 2 oz and was tied for 38th place.
I decided to run North on Day two and continued looking for bed fish. While I did that I threw a topwater popper around and began consistently catching fish on the popper while I looked for beds. By the end of the day I had caught 17 lbs. 3 oz. and moved up the leaderboard to 25th place. Three of my limit fish were from beds while the other two were caught on the topwater bait. Overall it was a very fun tournament and I felt like I was back in Wisconsin. I encourage FLW to continue to choose northern fisheries for future tournaments.
Since this will be my last major tournament for the 2016 season I would like to say thanks to all of my sponsors. Without Bridgford Foods, Dirty Jigs Tackle, Skeeter Boats, Skeeter Boat Center, Power-Pole, Infinity Wellness and Chiropractic, St. Croix Rods, PROcise Outdoors, Usedboatmall.com and my friends and family I would not be able to pursue a career in the sport that I love. Thank you to all of you! I'll be writing blogs throughout the rest of the year. If you have questions, comments or topics you want me to write about please don't hesitate to ask.