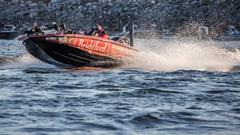 It never ceases to amaze me how fine the line is between success and failure in our sport. At last week's Kentucky Lake event I lost two fish out of all the bites I got during the tournament. Conservatively, I would say I had a total of 30 bites and therefore boated 28 of 30 potential fish. That's a 93.33% catch ratio. Sounds good right? After all, in baseball batting .300 is considered excellent. In basketball, shooting 50% from the floor is great. NFL kickers would love to make 90% of their field goal attempts. In fishing, well percentages don't mean squat. In this case, one of the two fish I lost was the biggest bite I had all tournament. Easily a four pounder that went aerial and shook my jig free. There wasn't anything I did with that big fish that I didn't do to land the other 28 bass I caught. It just wasn't meant to be. Unfortunately, that one big bite would have culled me up at least 1 ½ lbs. and cost me a $10,000 check. Argh! That is how my year has gone.
I was really excited to get to Kentucky Lake and have some fun out on the ledges. I purchased a bunch of cool off-the-wall ledge fishing baits that I was looking forward to trying and was hoping to find a couple of big schools to use them on. I spent my first practice day in the New Johnsonville, TN area. This was roughly an 80 mile trip from the launch site at Kentucky Lake Dam, but it is the area I did well in the last time at Kentucky Lake and felt like I have a better understanding of it than the other parts of the lake. Unfortunately, I wasn't able to put much together down there. The spots I fished two years ago didn't produce much and I wasn't able to locate any large schools of fish. At least not anything that made me feel like giving up three hours of fishing time would be worth it.
I spent my second day idling around between Kenlake State Park and Paris, TN. Again, I never found any big schools of fish. I had a couple areas that produced multiple bites, but I had to sit on them and grind for longer than I wanted to. So with a few hours left in the practice day I ran up to the dam area to check some old spots I had found several years ago. Fortunately, several of them produced bites with a couple of fish in the 3 - 4 lb. class range.
I decided I would spend my last practice day expanding on the areas I caught fish at the end of the previous day. Basically, from the dam to the Moors area. Unfortunately, by about 9 AM the wind had kicked up making graphing a tough task. So, I made the decision to pullout and drive south to try to force the New Johnsonville area to work. Again, I was able to catch decent numbers of two pounders, but never found a school or group of fish to excite me enough to make the long run.
I decided I would start the tournament near the dam and try to secure a limit in the first couple hours. If that didn't work I'd potentially run south since I knew I could catch a limit. Luckily, I never had to do that. I began catching fish on a regular pace and had a limit by about 8:30 AM. I stayed on my starting spot for about the first half of the day and then went looking at other spots with hopes to locate a school. It was at one of those spots were I hooked up and lost the 4+ pounder. I consistently upgraded throughout the day, but never had another big bite. I finished the day in 68th place with 13 lbs. 12 oz.
On the second day, I started in the same spot, but found that there were a total of seven local boats fishing the same area. One the first day there was only one local boat with the handful of Tour anglers that I was sharing the area with. This pressure really turned off the fishing and made it difficult to generate bites. I was able to catch four keepers from this spot after I began stroking a jig to get the bass to react. After I left, I quickly finished out my limit and began jumping around trying to locate a school. Again, I was never able to find a spot that produced multiple bites, but I was still catching fish scattered around. By the time I had to weigh-in I had culled up to 14 lbs. 7 oz. resulting in a 63rd place finish. This was not what I was hoping for as it makes me a long shot for qualifying for my third consecutive Forrest Wood Cup.
As I mentioned previously, I bought all kinds of cool ledge fishing lures for this event. But in the end, it was the old standby football jig that generated the bites for me. I caught almost all of my weigh-in fish on a ¾ oz. Dirty Jigs Tour Level Football Jig in The Go To and Pond Bug color. I used them on St. Croix Legend Tournament 7'3" Medium Heavy Rod with Seaguar Invizx 15 lb. fluorocarbon. The first day I caught the majority of my fish dragging the jig, but the second day I got most of my bites stroking the jig. The couple keepers I didn't catch on the jig I caught on a 3/8 oz. Dirty Jigs Magnum Stand Up Shaky Head tipped with a Green Pumpkin Zoom Magnum Trick Worm.
I'm looking forward to the next FLW Tour Event on Lake Champlain. It's a beautiful lake with lots of smallmouth and largemouth. I've never been able to put two good days together there, but I feel like I have a good handle on the fishery and am looking forward to giving myself one last chance at making the Forrest Wood Cup!