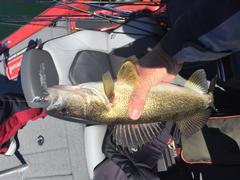 Most people look at me oddly when I tell them Beaver Lake is one of my favorite stops on the FLW Tour. The funny part is I've not had great success there. In fact, it's been a thorn in my side most years. This was the sixth time I've been there and I've only cashed checks twice. So, maybe I am crazy when I tell people how much I like Beaver Lake. But, it really does suit my strengths and I just love going to the lake and surrounding area.
Of the six times I have been there, I have never seen the lake under similar conditions. The water is either up, down, dirty, clear, etc. This year it was dirtier than I have ever seen it, which pushed the fish shallow and made them susceptible to power fishing techniques. I spent most of my three days of practice exploring parts of the lake I haven't fished before and caught some really nice largemouth. By the time the tournament started I had several quality bed fish located, a clear water finesse pattern and a crankbait bite in the dirty water. I felt confident that I could average 12 lbs. a day and had a shot at a big bag if I could get a couple of the right bites.
I had planned on starting the tournament throwing the crankbait since that is what I had gotten my biggest bites on during practice. But at the registration meeting I was given my boat number and it turned out I was boat #7 and in the first flight. This changed my approach and I decided to run to the lower end of the lake and fish for bed fish. I did this the entire day and managed to catch my limit for 11 lbs. 15 oz. which had me in 43rd place.
I was excited for day two since I would get to fish for two additional hours and decided I would concentrate on my crankbait bite. In the first hour, I caught three shorts, one small keeper spotted bass and lost three good fish. I never saw them but they were the kind that loaded up the rod and just gave three or four big headshakes before the hooks pulled out. I KNOW they were the right kind. Regardless, I felt confident I would get more opportunities the rest of the day.
Well, around noon and still only having one small keeper I decided to go to my finesse fish to fill out a limit. I quickly boated a limit of small spotted bass and was able to upgrade to a little over nine pounds with an hour left to fish. At that point I went back to the crankbait fish and again lost another nice largemouth that jump and spit the hook. I finished the day in 64th place with a total of 21 lbs. 1 oz. This was usually plenty of weight for a top 50 check, but this year beaver fished extremely well.
My crankbait of choice was an original Storm Wiggle Wart in various crayfish patterns. I fished it on 12 lb. Seaguar Invizx on a St. Croix Legend Tournament 7'2" Medium action rod. My finesse fishing was done with two baits. A Zoom green pumpkin trick worm and a Keitech Green Pumpkin Sexy Impact. I rigged both on a 1/8 oz. Dirty Jigs Stand Up Finesse Jig Head, 6lb. Seaguar Invizx, and a St. Croix Legend Xtreme 7' Medium Lite Rod. I used a variety of baits while bed fishing, but primarily relied on a white Zoom Z Hog Texas rigged with a ¼ oz. weight.
This was a tough tournament for me to swallow. I haven't missed two checks in a row since 2013 and could have moved up significantly in the AOY points with a better finish. On the bright side, I somehow managed to move up one spot to 40th in the AOY points and am only 9 points out of the top 35, which qualify for the Forrest Wood Cup.