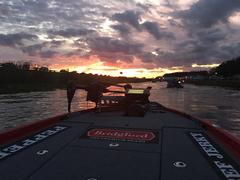 Heading into the first Bassmaster Southern Open tournament, I felt confident that I would be able to build on what I had learned the first time I was at Lake Toho a year earlier. I had done well making the top 20 cut in the 2015 FLW Tour event by fishing spawning flats and felt comfortable I could continue to catch fish doing the same things this year. However, the previous year my bite disappeared when we had a cold front come through on Day 2 and I knew that several of the top finishers weren't nearly as affected by the cold weather since they were concentrating on shell beds and current areas exclusively. So, heading into this event, I decided I was going to spend the majority of my time searching out shell beds and off shore locations since the weather forecast wasn't looking to be warm.
During practice, I spent considerable time idling around in search of shell beds. I found multiple prime locations, but only had a couple of areas that really interested me. These couple areas had some current and shell beds mixed in with some Kissimmee Grass. It had all of the right elements to withstand a cold front and I felt like it could be a player. I spent the rest of my time searching out spawning areas and discovered a couple of areas on Lake Toho that had a lot of male fish holding near isolated pads. My practice partner and I had also caught a few quality female from these areas leading me to believe they could be really good if the weather didn't cool off much.
I drew a middle of the pack boat number on Day 1, which meant both days I would not be able to lock out of Toho early and therefore, I decided to fish my spawning flats for the first couple of hours. I did this with little success either day and locked out of Toho by about 9:30 each day and went to my shell bed spots. On both days, I immediately began catching fish, but only had action for the first hour. Afterwards, it was a grind for the remainder of the day to catch anything of size and I ended up weigh-in exactly 10 lbs. 6 oz. each day. Most of the keepers I was catching were two pounders and I never did get a big bite.
I caught eight of the ten fish I weighed in on a 3/8 oz. Dirty Jigs Swim Jig in Black and Blue and Bluegill patterns. The remaining keepers were caught on weightless senkos fished around isolated pad stems. In hindsight, I really believe my decision to not try to lock down was what hurt me the most. I know there was a good morning bite on those shell beds and I was only catching the tail end of it by the time I locked out of Toho. Had I to do it all over again, I probably would have waited at the lock to try to get to my shell beds first, but it's a hard decision to make knowing you are giving up close to an hour of fishing time by just sitting around waiting for your turn in the lock.
Overall, I finished in 65th place out of the 200 boats. This wasn't good enough to get paid and put me behind the 8-ball to qualify for the elites. I figure I'll need two top 20 finishes in the last two events to have any possibility of qualifying.