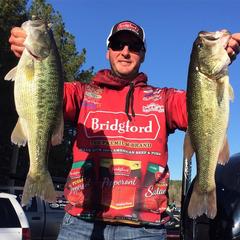 This was the third time I have fished Lewis Smith Lake and with each visit I grow fonder of this clear water reservoir. I knew prior to arriving that the fish would be in various stages of spawning and that trying to figure out patterns for each would be crucial to success. I decided to spend my first couple of practice days in completely different sections of the lake to see if I could determine an area that was producing better quality fish. Unfortunately, I never really found better quality in any of the areas and therefore had spots spread out all over the lake.
Spawning bass could be found everywhere, but it seemed as if you would need to catch a pile of bedders before catching one bigger than 2 ½ lbs. They were too deep to see and therefore you couldn't target specific fish making it a time consuming strategy that I felt could result in a check but would be hard to compete for the win. The males were skinny and didn't have the weight of the prespawners so anything over 15 lbs. would be an exceptional bag of bed fish, but hard to duplicate each day.
I also found the largemouth pulling up into pockets with some on beds and marked a bunch of areas that could be productive. I caught some really nice largemouth in practice on topwaters and knew I would work this pattern into my tournament strategy, but felt like it would be a gamble to commit to it for the entire tournament. It's possible to catch a 20 lb. bag of big heads, but more than likely you're looking at a 10-13 lb. bag, which isn't going to win either.
I spent my last couple of days looking for the female spotted bass, which I believe are plentiful enough and large enough to compete for the win. I was not able to dial in a great pattern for these fish, but when I did catch one they were big and had fat bellies. I felt like if I ran enough water I could get a couple of big bites a day and use the largemouth and spawning spotted bass as a good strategy to secure solid limits in the tournament.
Our first day of the tournament was canceled due to severe storms. The area received several inches of rain raising the lake over a foot within 24 hrs. This definitely dirtied up the water and I'm sure hurt some of the other anglers. I had a 3 lb. largemouth on bed that I wanted to start on and I was very concerned that I might not be able to see it come Friday morning. Fortunately, on Day 2, I was able to see it and eventually caught it. The only problem is it took me 1 ½ hours to do it. I hooked and lost the fish three times before finally landing it. I then ran around hitting several spawning areas I had caught nice spotted bass in practice and managed to fill out my limit with a couple of 2 ½ lb. spotted bass. I spent the rest of the day running largemouth pockets and managed a 2 ½ lber on a buzzbait. Shortly thereafter I lost a 2 ¾ lb. spotted bass that was on a bed. I revisited this fish three times before landing it and spent almost an hour of my time on it. Between two fish that I hooked and lost a total of five times between them I spent a total of 2 ½ hours fishing for them. Since, I was first flight I had an early check in and ran out of time. I managed five fish in the 2 ½ - 3 lb. range for 12 lbs 11 oz. and finished the day in 65th place.
On the final day, I decided I would spend some time chasing the prespawners and caught a quick limit including a 4 ½ lb. spotted bass. All of them were in about 25 feet of water and caught on a soon to be released Dirty Jigs prototype jighead. I then spent some time trying to upgrade with spawning fish, which I was able to do successfully. By about 11 AM I had four fish in the 2 – 2 ½ lb. range to go along with my big one. I then switched over to chasing the suspended fish again and worked in some docks due to the high bluebird skies. Over the next couple of hours I managed to catch two more spotted bass over 3 lbs. and one 4 ½ lb. Largemouth that I caught on a frog in the back of a pocket. My total weight for the day was 17 lbs. 6 oz. and moved me up to 10th overall for the tournament and 18th in the AOY point's race with one tournament left in the BASS Southern Opens.