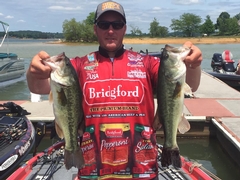 Douglas Lake continues to rest towards the bottom of my list for lakes I enjoy fishing. It is beautiful with the Smoky Mountains in the background, but it fishes small and the fish don't seem to act like other TVA lakes. I knew heading into this tournament that the winner would most likely catch their fish deep and in order for me to have a shot at qualifying for the Bassmaster Elite series I would have to make the Top 12 cut (Turns out I needed to finish 4th or better). Knowing that the majority of the biggest fish would be offshore, I decided to spend the first couple days of practice looking for schools out deep. I found several small schools of fish, but I never stumbled upon a big school and of the fish I did catch nothing was over two pounds.
With my rough start to practice, I decided to check out the banks and found that there were still lots of shallow fish. This surprised me since the lake was about four feet below summer pool, but was rising about six inches everyday keeping fish on the bank and potentially attracting new fish. I spent the remainder of practice checking shallow and deep spots, but could only consistently catch them shallow and on the last day I found an area that had numbers of fish and the potential for over fifteen pounds. I thought it would take fourteen pounds a day to make the Top 12 cut based on previous tournaments and therefore decided to commit to shallow fishing.
I started in the area I found on the last day of practice and figured I'd leave it if I had twelve pounds. I knew there were decent numbers of fish in the area, but also knew there would be other boats and that if we beat up on them on the first day the spot might not last for two days. Plus, I had lots of other smaller areas I felt confident in and wanted to check out. In practice, I shook off almost every shallow bite I had so it's difficult to know what potential an area actually has.
It took me until 10:30 to catch a limit for about twelve pounds and at this point I decided to leave and start running other areas. I managed to cull up to my day one weight of 13 lbs. 3 oz. but never got a big bite all day. This was good enough for 36th place heading into the second day.
After looking over the leader board I noticed that there were a couple of other boats that caught 14 – 15 lbs. in my main area, which concerned me that it might not hold up for another day. Regardless, I had a long second day and knew I should go check it out. I quickly realized that the fish were still there and in fact biting upon my arrival. Unfortunately, I had one of the worst tournament days I have ever had. I proceeded to lose my first five fish, all between 2 ½ - 4 lbs. and should have had almost fourteen pounds in the first hour. The rest of the day went similarly. I caught a lot of fish, but could not land the big bites. I lost three more three pound class fish and finally boated one about 3 ¼ lbs. in the last hour. It was extremely frustrating to say the least!
I caught all but two of my weigh fish on a Dirty Jigs Luke Clausen Compact Pitchin' Jig in "The Go To" color. I fished it on a St. Croix Avid 7' MH rod with 15 lb. Seaguar InvizX Fluorocarbon. The other two keepers were caught on an Albino Spro Bronzeye 65 frog, which I rigged on a St. Croix Legend Tournament Slop-N-Frog rod and 60 lb. Seaguar Kanzen Braid. These were my primary lures, which I usually have a very good hookup to landing ratio on. However, with the rising water level, the fish were literally sitting on the bank in inches of water. The bites were immediately upon entry and they would instantly run straight at the boat heading for deeper water. This resulted in poor hooksets and lost fish. I only managed to catch 9 lbs. 12 oz. on day two dropping me to 56th place in the tournament with a total weight of 22 lbs. 15 oz. and 21st place in the AOY points.
In hindsight, I should never have left my primary area on Day 1. There were a lot more fish than I originally thought using it. I believe there were both prespawn and post spawn fish filtering through and all were eating aggressively. It also seemed like they bit in spurts, which can be correlated to the generation schedule. Normally, I don't feel like shallow fish are as affected by the current, but in this case it seemed like they were. It's been a rough year so far, but I'm looking forward to my next FLW Tour event on Kentucky Lake.