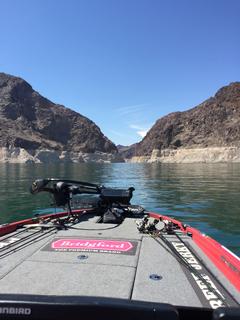 Ever since I was a young boy, I have dreamt about fishing the WON Bass U.S. Open on Lake Mead located near Las Vegas, NV. It's considered the Super Bowl of bass fishing for the west coast anglers and many consider it to be the toughest tournament to win in the country. This is because of the continually changing water levels, extreme weather conditions, and overall toughness of the bass fishery. So when I was provided the opportunity to fish this event I jumped at the chance to knock a tournament off my bucket list.

It took me nearly thirty hours of driving time to travel from my home in Wisconsin to Las Vegas. A drive that I recommend everyone do at some point in their lives, although I don't recommend towing a boat through the Rocky Mountains. My schedule provided me with about two and a half practice days and I spent most of this time covering as much water as I could. Lake Mead is a series of large basins connected by what the locals refer to as "narrows." These are areas where the old river channel cut through mountain ranges and are much more canyon like than the rest of the lake. My strategy was to identify areas holding concentrations of fish so I would pick an area and fish it for fifteen minutes. If I caught or saw a keeper I would pick up and move a few coves over and repeat the process. If I had a string of successive stops that produced keeper bites I assumed I could probably catch fish as well from the coves I skipped over. If I didn't have any action I would move a quarter mile or so down the lake and repeat the process. By the end of my practice I had several areas in the Temple Bar and Virgin River Basins that held keeper quality fish with an outside shot at a big one (3 lbs +). However, I was never able to find a specific pattern that the fish were relating to. It seemed like you just had to fish through areas that you were confident had fish and eventually you would catch a keeper.

I started all three tournament days in the Temple Bar Basin bouncing around in areas I had seen or caught fish. I made the decision to stay there until I had caught my limit each day, which took me until about 9 AM on the first two days and noon on day three. After securing my limit I would start working my way back towards the ramp and continued to cull catching between 7 -10 keepers a day. In total, I weighed 7.65, 7.04 and 8.06 for a total of 22.75 lbs and finished 27th out of 168 anglers, good enough to cash a decent check. I do feel like I had the fish on to take a top 10, but unfortunately I wasn't able to put them all in the boat.

This tournament was a true junk fishing event. I caught my fish on poppers, buzzbaits, walking baits, jerkbaits, drop shots, 1/2 oz. jigs, spider grubs, swimbaits, Alabama rigs, spinnerbaits, punching gear and underspins. There were fish in 2 - 40 feet of water around weed, wood, and rock. It really is a tournament that allows anglers to fish their strengths and can be won in any area of the lake on any bait. It's up to the angler to figure out what bait and what retrieve will work best and that's why anglers love this tournament.

If you are looking for a great tournament to fish I highly recommend the U.S. Open. The staff, facilities, and events throughout the week are all top notch and are the reason why the U.S. Open is considered one of the best events in the country. I'm already making plans to attend it next year!