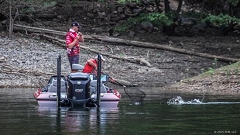 I'm definitely disappointed in my performance last week at the Forrest Wood Cup on Lake Ouachita. I put myself in a position to have a very good tournament after the first day, but was unable to get the job done on Day 2 and missed the top 20 cut. My hat goes off to Brad Knight who was able to put together four consistent days on a stingy Lake Ouachita and take home the $500,000 prize.
I spent three days at lake Ouachita prior to the off limits period and found fishing to be tough, but a much better overall quality size fish than I had been expecting. I spent about half of my time beating the bank with various topwaters and found that I was able to get consistent bites early in the morning, but once the sun got high it became much more difficult. The rest of the time I spent fishing deep weedlines in about 14-20 feet of water and found several areas that produced multiple fish in the 3-6 pound range that bit a bluegill colored jig. I felt confident that I had found several areas that would still have fish when I returned for the tournament.
I arrived back in Hot Springs, AR about a month after my pre-practice period and found that water temps were almost 10 degrees cooler and that the lake level had dropped roughly five feet. I spent the first day of official practice throwing a hookless topwater almost all day and had consistent success with over fifteen quality bites. The second day I decided to concentrate around the grass areas that were productive during pre-practice and found them to be void of fish. I'm not sure if the water dropping hurt the pattern or if the fish just moved on, but regardless it was not good.
On day three, I continued to get some bites on a topwater bait and also mixed in brush piles and bluff walls. I fished about 20 brush piles and only had one fish, but it was a quality four pound largemouth and it gave me confidence that they may be worth fishing in the tournament. I also found that several of the fish I caught or had bite on bluff walls throughout the practice and tournament were healthier looking than the other bass I saw elsewhere.
On day 1 of the tournament I started in an area I had multiple quality blowups. It took me about three hours to fish through this area and I never had a bite. I then kept moving around fishing coves I had seen fish during practice and ended up having six bites overall. I caught five of them and ended up weighing 11 lbs. 12 oz. after a four ounce dead fish penalty.
On Day 2, I decided I would start by fishing a topwater over some main lake grass humps. I had some good fish there in pre-practice and knew there was schooling activity in the mornings, which I thought I would have a better chance of running into out in the open water than in some of the coves I was fishing. This turned out to be a bad decision so after about an hour I started running coves again and quickly caught a 13 inch keeper. It took me until 12:30 to catch my second keeper, which was pushing about four pounds. At this point, I knew I needed another two pounds to make the cut and felt comfortable with four hours left I would get opportunities to fill out my limit let alone catch enough weight to advance to day 3. Unfortunately, I never had another opportunity. I fished my butt off trying to make it happen but never had another bite.
In hindsight, I think the biggest mistake I made was not having some early morning schooling fish found. It sounds like a lot of guys were catching small limits for 7-8 lbs. in the first hour. I think I saw only one or two fish all week chase baitfish on the surface, but had I spent more time looking I might have found a place to catch a quick limit. It seemed like the bass on the bank didn't get active until the sun came out, which seemed to increase the bluegill activity, which in turn activated the bass in those areas. I never had a bite all week before 8:15 and most of my action came around noon. The funny thing is this was the complete opposite of what I saw in pre-practice.
I'd love to head back to Lake Ouachita. It's a great tournament venue and allowed the anglers to fish in so many different ways. Plus, the town is a great destination for families to spend their time while the fisherman are out on the water. I know my final result of 24th place is nothing spectacular, but I really believe these late summer tournaments favor me as an angler and as long as I can continue to qualify for the Forest Wood Cup I might actually win one of them! Thanks again to all of my sponsors, friends, family and fans that have supported me this year. Your support means the world to me!