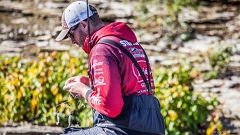 My 2015 fishing season came to an end with the conclusion of the FLW Rayovac Championship on the Ohio River. I qualified for this event through the Southeastern Division and was looking forward to a low weight tournament that I knew would be a grind. Even though I grew up in Chicago, I have never had the opportunity to fish the Ohio River, but based on my research and prior tournament results I knew the fishing would be tough and that a limit each day would probably be good enough for at least a check. I also knew that the tournament could be won in the Tennessee River, Cumberland River or Smithland Pool of the Ohio River. Unfortunately, the distance between all three made it difficult to fish more than one area in a day. Because of this, I chose to spend a full day in each area during practice and decided I would use my fourth and last day of practice to expand on the area I liked best.
After my first three days of practice, I was surprised at how different each of the three main areas looked. The Smithland pool is a stump filled maze of shallow backwaters that look great, but I had little success and felt that the main areas would not be able to withstand multiple days of practice and produce well in the tournament. The Tennessee River produced two of the biggest fish I saw all week during my second day of practice, but I only had three keeper bites all day and I was concerned I wouldn't be able to catch a limit both days. On the third practice day, I fished the Cumberland River and had more bites than any other place I had been previously. Most of them were spotted bass, but I felt like I could expand on that area the fourth day and potentially find some largemouth and smallmouth. I never did find anything great, but I did discover a couple areas that helped build a pattern for me heading into the tournament. However, after four days of practice, I had yet to see a limit of keepers and knew the tournament would be a grind.
On Day 1 of the tournament, I got to my starting spot and found that the water was several feet higher than practice and the current was raging. I'm sure this spun a few people out, but actually was a good thing for me. I fish a lot of rivers in Wisconsin and know that when the current is fast and the water rises a lot of fish get pushed to the bank and become much more accessible and that's what happened on the Cumberland. I had a limit by 8:30 and had caught a bunch of other non-targeted species like white bass, stripers, and drum. The fish were active and biting. Unfortunately, the dam stopped releasing water and the current slowed and the water began falling. I spent the rest of the day trying to figure out where the fish went but only managed one other small keeper that didn't help me. I ended the day with a limit for 7 lbs. 9 oz. and was tied for 39th.
After catching my fish quickly on Day 1, I knew it would be really important to take advantage of the morning bite. Unfortunately, we had really bad fog and it took me until 9 AM to get to my starting spot. The fog was so thick I couldn't see my bait land after I would make a cast! Similar to the first day, the water was high and the current was raging. Within the first five minutes, I caught my first keeper spotted bass and was hoping they would keep pulling water. Over the next twenty minutes I caught a short spotted bass and three more big white bass and again it appeared the fish were feeding. But, similar to the first day, the dam stopped releasing water and the current slacked off and the water began to drop. I spent the next two hours grinding on my starting spot with no success. I then ran up towards the Cumberland dam and found some bushes that still had some water in them. I managed to flip up a couple of keeper largemouth from the bushes before noon and was back on track. A couple hours later I stopped on some shelf rock and managed to catch two keeper smallmouth to fill out my limit. I never got another bite the rest of the day and ended up with a limit for 7 lbs. even and finished with a total of 14 lbs. 9 oz. and cashed a check for 35th place.
The key for me was identifying current seems along the rock shorelines and then making repeated casts to those areas. This was essential since the current was so strong it was extremely difficult to get your bait to swim into the small eddies along the bottom. You could tell when you were in the strike zone since you could feel the tension of the bait almost go slack as it fell into the eddy. That was where the fish were holding and your bait needed to be. I found my best areas to be along natural rock as there were more irregularities in these areas to break up the current.
I caught all of my fish on two baits. My primary lure was a YUM Flash Mob Jr. rigged with Keitech 3.3 Fat Impact Swimmers in natural shad patterns. I believe the umbrella rig created a larger profile and gave the fish a better look at the bait as it was being swept downstream in the current. I also caught several weigh-in fish on a Dirty Jigs ½ oz. Black/Blue/Purple Scott Canterbury Flippin' Jig. I added a couple of strands of chartreuse skirt material to the jig since the water appeared to muddy up a bit as the tournament went on. I used the jig any time there were visual eddies I could see and around flooded wood.
Since this will be my last tournament Recap until next season, I would again like to take a moment to thank all of my sponsors, family and friends for supporting me this year. I'm already looking forward to the 2016 season and am expecting bigger and better things! Stay tuned!